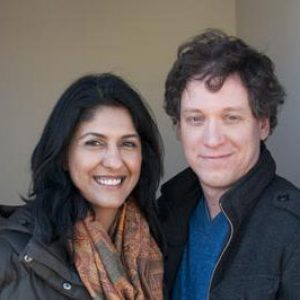 Sabahat Chaudhary and Marc Reber: From "not talking at an improv festival" to married with a toddler
Harold team casting continues to embrace change within program
John Heiser and Dana Malone: The world is full of 'no' but we choose to say 'yes'
In celebration of the run of WIT's romantic comedy Improv Actually, WIT is interviewing several couples who met through WIT.
Sabahat Chaudhary and Marc Reber met through improv, got married with improv, and are now raising a toddler through improv. Sabahat (a WIT teacher and former ensemble member) and Marc (a former member of WIT Harold team Discoteca!) talked to WIT about doing improv at their wedding and parenting with improv.
How did you get involved in improv?
Sabahat: A friend of mine from college was taking improv classes and told me I would like it, so I tried it out. That was 10 years ago! I guess I really liked it because while I took a break for a few years, I came back to it and I am still doing it.
Marc: I started improv when I lived in Philadelphia. I found out about ComedySportz when several players were in a production of The Complete Works of William Shakespeare (Abridged). After the short-form curriculum I took long-form classes, then became involved in the indie scene, and have been doing it ever since.
How did you meet? What were your first impressions of each other?
S: We met at the Harrisburg Comedy Throwdown, a festival/improv competition in Harrisburg, PA.  The festival doesn't exist anymore. They actually tore the venue down after we left (well, not right after, but a couple of years later). It was a judged contest—one of the judges was a local DJ—and Marc's group won third place! It was my first festival with my team Press Play. We didn't talk that much at the festival—Marc was too busy winning and stuff—but my general impression of him was that he was funny, smart, and cute.
M: Sabahat's right, we didn't talk much at the festival! But I do remember when we first met (and talked) feeling that certain spark of meeting someone special.
You guys had improv at your wedding! How did that come about?
S: We went back and forth on whether we should have it or not. In the end, we decided that since improv was such a big part of our lives, we should. Press Play had a tradition of having improv at weddings. When we got married, there had been three weddings since the team started and each had an improv show at it. So we were just continuing the tradition in a way.
We also thought some improv comedy would create opportunities for conversations between our two families, who are very different — my family is from Pakistan and Marc's family is not. And it did, people seemed to have really liked it. I highly recommend having wedding improv for inter-whatever couples, which honestly are most couples because all families are different.
M: That was pretty much it. We debated if it was something that we wanted for our wedding, but in the end, it was such a part of our lives (and our meeting!) that how could we not?
What's one thing that each of you appreciate about the other?
S: Marc is a really good listener and always gives a perspective on something I hadn't considered. He's also very supportive of me and is obsessed about doing dishes. (I make a lot of dirty dishes.)
M: Sabahat is caring, and smart, and beautiful, and funny, and supportive, and insightful, and a great cook, and kind.  Oh, only one thing?
Improv has applications in every area of life—from home to work. Has improv helped you in your marriage?
S: Definitely. All couples should do improv.  Improv helps you develop/improve empathy and detach from your ego and that has helped me a lot. When you live with someone, you can get irritated or feel hurt by things that are not intentional. Practicing empathy in improv, or seeing things from another's perspective, really helps you do the same in marriage — asking why did this person say this rather than assuming why they did it.
M: There's definitely a "yes, and" attitude that comes with being married. Getting out of your comfort zone and being on board with another person's suggestion is key in improv, and it goes a long way with trying out experiences that someone else in your life is offering you.
You've got an adorable toddler named Raif. Has being an improviser influenced your parenting at all?
S: Yes! Marc says improv is play and being able to play has been key to parenting for me. It's easy to make up a song when presented with a power struggle or a poopy diaper when you do it once a week with your improv troupe (well, maybe improv songs aren't about poopy diapers, at least not all of them).
M: One of the things that improv taught me was to, literally, sing in my own voice. I find that I sing a lot to Raif for almost any reason without really worrying about the content. The act of singing without hesitation is its own reward.
How do you manage parenting with trying to keep a active improv life?
S: I think it helps that we both support each other's projects. If Marc wants to do a show, I'll encourage him and he does the same for me. I am grateful that I can keep improv in my life and for the opportunities I have but, we also try to maintain an improv/life balance. We also aren't looking to do shows every night of the week. I am in one group that rehearses (Press Play) and Marc is in a few duos that meet periodically. We know we can't do it all.
M: I agree. You can't do everything, but being supportive of each other has meant that we have been able to do far more than we expected. Hopefully you will still be seeing us for a while!
Published:
January 22, 2018