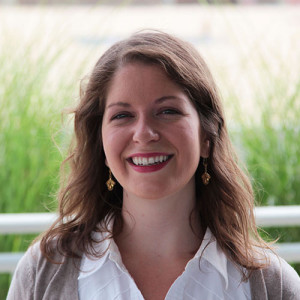 Ari Koudounas: A real life Leslie Knope (and WIT board member)
Love Onion's Jordana Mishory dishes on her journalistic accomplishments, improv hero
The October Issue seeks new talent to join its cast
WIT board member and training program graduate Arianna Koudounas has been called the "Leslie Knope" of her hometown in New York's Hudson Valley. Find out how this dynamo uses improv in her work managing a research program for a nonprofit. "I am constantly improvising," she says, "as most people are in any job, and in life in general." 
How did you get into improv? What inspired you to take your first class?
I loved watching my college's improv troupe perform but was always too shy to audition since I was at NYU—land of the aspiring performers. Several years later, upon moving to DC (and before making many friends), I signed up for a one-off improv class offered through Living Social (on April Fools Day, might I add). My instructor came from WIT, so following that workshop I started taking WIT classes, and completed the entire curriculum straight through.
Which WIT class stands out as your favorite, and why?
Character. I had a great instructor (Dan O'Neil—I highly recommend him!). I knew I needed to work on getting out of my shell and that the way to do that was through building the tools to establish more characters, which would in turn encourage me to initiate and commit to more scenes.
What attracted you to the opportunity to join the WIT board? What has that experience been like?
I've been working in the nonprofit sector for the past six years, always for organizations that are governed by a board of directors. I thought having the perspective (and sympathy!) of what it's like to be on the staff side of a small nonprofit would be helpful insight to contribute. I also have a background in urban planning and creative place making, so I appreciate the role that institutions like WIT play in creating community, and want to help increase the organization's capacity and reach. I joined in May of 2015 and it's been a great experience so far. I enjoy the collaborative opportunities to strengthen events and fundraising efforts, as well as to see what the back-end of organizing runs of shows (like The October Issue) looks like.
I understand that you're a big fan of your hometown in New York, where your parents owned a Greek restaurant until you were in high school. Can you paint me a bit of a picture of life in that town?
Yes, and "big fan" might even be an understatement. Many friends joke that I'm the Leslie Knope of Newburgh, New York, since I've organized a series of five Community Conversations there to discuss strategies for economic revitalization over the past couple of years. Newburgh has its share of problems — crime, poverty, and drug trafficking chief among them — but it is also a community full of amazing people who have a shared vision for how to celebrate its history (George Washington resided in Newburgh for a good chunk of the Revolutionary War) and catapult it into a modern renaissance (in recent years a range of restaurants, cafes, and art galleries have opened in town, along with the Newburgh Brewery and a few new manufacturing facilities, breathing new life into streets that for years felt unsafe to walk down). Here is my favorite picture of Newburgh: A view from across the river in Beacon, New York, where famed folk singer Pete Seeger successfully worked for many years to clean up the Hudson.
When you aren't improvising, you're a program manager at the Landscape Architecture Foundation. Do you ever use improv in your job? If so, how?
Definitely. First off, we're an organization of six, and three of us do improv at WIT. So sometimes literal improv happens when we feel like encouraging our non-improvising coworkers to get on board! And in my position I am constantly improvising, as most people are in any job, and in life in general.
A good chunk of my job consists of managing a research program called Case Study Investigation (the cool kids call it CSI). Throughout the seven-month CSI research program there is an iterative review process. I don't pretend to be an expert on all areas our researchers are covering, but I know I can offer helpful insights if I fully understand their approach and the questions that are guiding their process. This takes the shape of me needing to listen carefully, ask thoughtful questions that can inspire further lines of inquiry, and offer creative solutions to problems they are facing. The skills and confidence I have gained through improv make me more inquisitive and creative, equipping me to better understand the researchers I work with and to confidently provide them with useful alternatives.
What's the last thing that made you laugh out loud?
One of the former members of my college's improv troupe is still an improviser and while she lives in LA now, her social media updates are a daily treat from afar. This morning's Instagram post was a report card from her preschool days, which included the following feedback from her teacher: "Very self-confident; GREAT cutting skills; can't skip." You'd have to see how the report card was filled out to get the full effect, but trust me…hilllllarious.