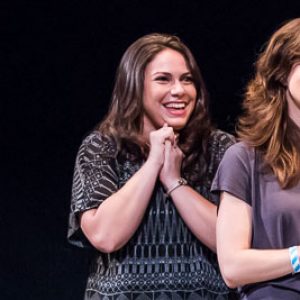 Q&A: Macey Schiff talks about love and smooching in the reboot of Improv Actually
Harold team auditions coming Jan. 28
WIT announces auditions for company ensembles
Macey Schiff has been on the WIT scene since 2012 as a performer and teacher. An original member of Madeline, Macey was also part of the cast of the 2014 production of Improv Actually—an improvised romantic comedy inspired by the movie Love Actually. Improv Actually is set to return for Wintry Mix with Schiff taking the role of director as well as a largely new cast. Macey spoke to WIT about her love of the show and the process of rebooting the show with the help of assistant director Kaelan Sullivan.
You were one of the original cast members of Improv Actually in 2014. Why do you love the show so much?
Truthfully, I began to fall in love with the show the moment I read the description. When I was in college, I studied interpersonal communications, relationships, and psychology. I even did an independent study with my favorite professor that—although originally intended to be about what makes people tick, in general—ended up being about me! So a chance to do an improv show that focused heavily on relationships was a marriage of two of my favorite things.
Once rehearsals began for the original production, I really, really fell hard for the show. It was such an amazing group of people and the La Ronde (which is built into the show) has always been my favorite long-form format because the focus is so heavy on relationships and real characters.  This show encourages players to do just that—be vulnerable, open, and honest, with bits of yourself sprinkled in, if you're comfortable with it!
As we had performances, getting to see the audience fall in love with, root for or against, and be otherwise emotionally invested in our characters and what happened to them was a little bit surreal. People would gasp and cheer and react with such enthusiasm, it always made it feel like everyone in the audience was along for the ride as much as we were.
How will the show going up during Wintry Mix be different than the first runs.
Well, the cast is different, for starters! I really, really love this show so, as the director, I am trying to pass that enthusiasm off to the cast as much as possible.
Additionally, in years past, we've always worked the holiday season into the show somehow, which won't be happening this time around. If the cards fall that way, totally fine, but that's not something that will happen intentionally. We will also be changing up the music, since the show is not taking place during the holidays this run, we don't really want to use Christmas songs. No spoilers, but it's a great soundtrack!
Much of the cast is new for the reboot. How did you go about inviting new cast members?
In looking for a new cast, there were a variety of factors to take into consideration. I wanted performers with a demonstrated ability to connect emotionally with fellow players and audiences, comfort being vulnerable, and the ability to play real, grounded characters no matter how zany the world. I also wanted players with a diversity of unique backgrounds and experiences.
People fall in love with people who fall in love with people. It can be messy, it can be painful, but it can also be totally awesome. Most importantly, it can happen to anyone and everyone. We wanted players who could play the best-friend underdog; players who could also be the goal-oriented, no-nonsense, caught-off-guard-by-love kind of lead; players who could be supportive and scorned, loved and hated, and everything in between!
I'm completely and utterly smitten with our cast. They are doing incredible work and are so open and fun and wonderful, I can't wait to hit the stage with them!
This is a rare improv show that involves actual, real life smooching. How do you prepare the cast for a level of intimacy you don't usually see in improv.
Well first we made sure everyone felt comfortable with each other by running through more than your normal amount of get-to-know-you kinds of games and exercises. Then we sort of, dipped our toes into the waters of physical intimacy, so to speak. There's a really wonderful exercise that Jamie Bingner, one of the show's creators, came up with that pairs players up. No one speaks, and each pair pretends they are on a movie watching date with someone they really like, and therefore, someone they want to be physically close to. It gives everyone a chance to work through to that level of comfort at their own pace.  Since I'm also playing in, it's super helpful to have Assistant Director Kaelan Sullivan guide things along when I have to play in/practice!
We also ran through an exercise similar to three line scenes – but with a twist- everyone kissed after their third line! We also practice actually kissing during the runs we do in rehearsal, so that it feels very natural by the time the show is on a stage!
What have been some of your most favorite moments during the rehearsal process?
Can I say all of them? All of them.
Okay but really, the first time I met with the cast this year, we did a really fun dating version of the introductory improv exercise Four Corners. Everyone shares a fact about their dating life and if that fact applies to you, you you would join that person on one side of the room (and go to the other side if it didn't). It was such a blast, I felt kind of like I was back in high school playing "truth or dare" or "never have I ever". And then, the first time we did the kissing three line scenes this year, everyone in line Ooo'd and Aah'd during the scenes leading up to the kisses, and then cheered during the kisses. It was just a really, really amazing thing. It was like, hey, this is something that we're all in and excited about and invested in together!
Improv Actually runs throughout Wintry Mix. Get tickets here: https://witdc.org/shows/road-show-wintry-mix-dc-arts-center/