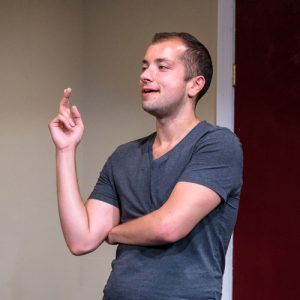 Q&A: Adam Koussari-Amin on Ugh, pino grigio, and DJing
FIST 2018 team sign-ups are live
Audition for Vagina: An Improvised Monologue Show
Over six years ago, Adam Koussari-Amin convinced his workplace to pay for his first ever improv class. And we're sure glad they agreed, because Koussari-Amin still performs regularly with the spectacular indie troupe called Ugh as well as serving on the board of Washington Improv Theater. But making people laugh hysterically isn't the only thing he does in addition to his day job—he's also a DJ! This interview talks more about Koussari-Amin's love of improv (and performing with Ugh) as well as how he thinks DJing and improvising relate.
And don't miss Ugh's next show ("I Saw Daddy Kissing Santa Claus") at WIT, which will be on Dec. 17th as a part of Seasonal Disorder.
OK—How long have you been doing improv, and why did you start?
I started about 6 to 7 years ago. At the time, the company I worked for authorized me to take a sketch writing course to improve my writing abilities. When that fell through due to teacher scheduling, I used the credit to take my first improv course instead (with the justification of improving my public speaking skills!). It's been a great ride thus far, both personally and professionally.
Can you tell me about your improv troupe, Ugh? What do you love about playing with this group?
Ugh—such a great idea by the one and only Dan Milliken! Three years ago, Dan gathered a bunch of performers he'd seen—assembling what was, essentially, the gay improv-version of The Avengers—to provide a unique lens on long-form. I think it completely showcases what improv should be, both on and off the stage.

On the stage, we trust each other completely, knowing that by listening for and supporting each other's ideas, we can all create something hilarious without even trying. At the same time, we can take a concept and totally flesh it out, like our "Real Housewives of Improv," which has driven both successful shows and WIT fundraisers.

These successes are built from a strong foundation of friendship offstage, which is absolutely quintessential to improv. We're constantly riffing off each other, and we continue to have a joke that Ugh is more of a "lifestyle brand" than just a troupe…that brand being mainly fueled by pinot grigio with a side of shade.
What's your favorite thing about improvising?
I love the collaboration and inclusion of a well-working troupe. I love the spontaneity and excitement that comes from having to generate comedy on the fly. I love the constantly evolving paths a show can take based on the audience's reactions. I love that the audience is a critical part in helping to build the show with us. And, at least within DC, I love the community that is continuously growing and maturing while still maintaining its ability to connect with each other and have a great time.

So, I know that you're also a DJ. Briefly, can you describe what a day in the life of a DJ is like?
Yes! I promote and DJ two events a month as a side hustle to my regular job. Like improv shows, or any other events, they take a lot of pre-planning with marketing, advertising, and logistics.

Just like improv, DJing is a live activity where much of it can be made-up on the fly based on what sort of reaction you're getting from the audience. That said, it can take a lot of prep, looking and listening for new music, and testing things out to make sure everything flows properly.

What do you like best about running big parties, such as CTRL?
The crowd reaction is incredible. People who've seen me DJ know that I love my music more than anyone else and typically dance in a way that's been described as a "wacky inflatable arm flailing tube man."  The ability to elicit similar reactions from a crowd of hundreds is such a great way to spend a Saturday night. We've been doing CTRL for over five years now, and it's been filled with amazing experiences that I'll cherish forever.

How do these two passions—improv and DJing—impact each other?
While not directly related, I always love to mix my sense of humor with my music. Most recently, I got to play Bojack Horseman's "Get Dat Fetus, Kill Dat Fetus" at Town. And, previously, I got to mix in a dance remix of Maxine Water's famous "Reclaiming My Time" line.

On a more related note, I think improvising has made me more comfortable with trying things out while DJing live, and has potentially helped me keep my cool when things like technical difficulties occur. With DJing, timing and cohesion is everything, so I like to see my improv play as very focused on keeping plates spinning and things feeling seamless.
Interview by Abby Wolfe
Published:
December 11, 2017