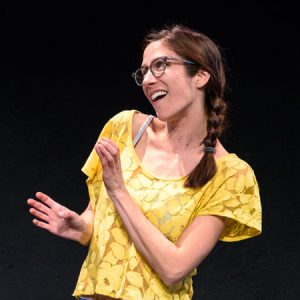 Audition for Vagina: An Improvised Monologue Show
Q&A: Adam Koussari-Amin on Ugh, pino grigio, and DJing
Q&A: Eva Lewis and Greg Tindale From White Privilege, Black Power
Annie Barry is directing a re-mount of 2017's amazing one-night-only Vagina: An Improvised Monologue Show. The date of the performance will be MONDAY, FEB. 12 at Source. Rehearsals will take place from mid-January through the show date, with 3 or 4 rehearsals total – to be scheduled once players are cast. Some players are likely returning from the inaugural cast, but Barry plans for at least half the cast to be new voices.
Auditions will be held on Friday, Dec. 15 from 4 PM to 8 PM at Source (1835 14th St. NW). The deadline to sign up is Friday, Dec. 8 at 11:59 PM.
This show by design includes some personal and vulnerable material, so players should be comfortable with that notion and should prepare to play emotionally as themselves during the audition. As suggested by the title, the show will explore players' gender identities and their relationships with living as women.
Auditioners should:
1. have completed Level 4 Scene in WIT's curriculum or have equivalent class/performance experience
2. be 100% available for the performance date Feb. 12
3. be available to audition on FRI Dec. 15
If you have any questions, please contact artistic director Mark Chalfant at mark@witdc.org
Published:
December 5, 2017