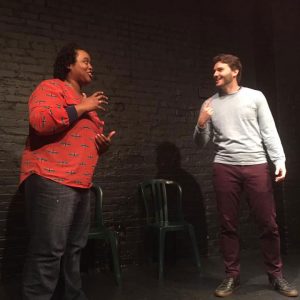 Q&A: Eva Lewis and Greg Tindale From White Privilege, Black Power
Audition for Vagina: An Improvised Monologue Show
Q&A: Jive Turkey on how to make a great duo
In January, veteran improvisers Eva Lewis and Greg Tindale debut their new show White Privilege, Black Power during WIT's Rise Up! performance series. In the thought-provoking show, Lewis (who is African-American) and Tindale (who is white) ask each other candid questions about race and perform scenes based on the responses. The duo has continued to perform the show since its debut and, in recent days, have invited special guests to share their thoughts about diversity and multiculturalism in America.
White Privilege, Black Power opens for iMusical on Dec. 8 as a part of Seasonal Disorder.
Hello! Can you each tell me a bit about your "improv history?"
Greg: Growing up, I was always fascinated with comedy. I loved Saturday Night Live, Wayne's World, Stand Up Spotlight on VH1, etc. I was never a theater kid because I always played sports—football in high school, then rugby in college.

After I graduated, I played in a co-ed flag football league. One game, my main job was to keep running around one of our opponents for a while. It hit me that all the glory from sports was gone for me. Soon after, I saw a WIT show at DCAC and started taking classes in 2006. After the first class, I knew I was hooked. In 2007, I was cast on my first team, JINX, and have been performing with WIT (in some capacity) ever since.

Eva:  While studying for the Illinois bar, my classmate told me he was going to take an improv class, and I decided to join him. It was one the best decisions I made in my life.
I finished the Second City improv classes and then took two levels at iO Chicago.  Shortly after, I returned to the DMV and completed the WIT curriculum.  My first team was called Neighbors, and then I joined Press Play, a troupe I still perform with on a regular basis.  I was on a Harold Team (People Like Us), October Issue, King Bee, and a whole host of other teams and projects.

What was the inspiration and origin story behind your show, White Privilege, Black Power?
Greg: I remember walking through DC the day after the 2016 election. It felt like the soul had been sucked out of the city. In the coming months, I saw people marching, planning to run for office, and registering people to vote. It made me think, "What do I have to give to make a difference?" Since I do improv, I planned to create a dialogue about what divides us and what brings us together one show at a time. So, I emailed Eva…
Eva: I said yes and suggested our format, which is doing some scenes after asking each other questions.
Do you have a favorite moment from performing this show?
Greg: The moment I've thought about the most is when Eva asked me if I thought black people could be racist. I said yes—As humans, we all have racial bias. It's part of our lizard brain to identify what's different and what's the same. She expressed that racism is more about the way race plays out in our hierarchical social structure.
It was a good example of people thinking they're talking about the same thing but they're really having two different conversations. I've since brought up her point in conversations about race with my white friends. A video of that scene (as well as other favorites) can be found on my Tumblr.
Eva: One of my favorite moments is when Greg spoke about some people that wanted to touch his daughter's hair, which reminded me of the many instances when white people touch black women's hair.  We started a scene, and as Greg got up, I reached over and touched his hair.  The audience immediately laughed, and I fully accepted that I was wrong.  It was fun for me to pretend to be a person who would do such a thing.  It was even funnier that Greg was still going to report me to HR.

What effect do you hope to have on the audience?
Greg: I think that when we're transparent and vulnerable on stage, it lets the audience open up. It can be therapeutic to see a charged issue play out in a silly way. Hopefully, people are going home and starting dialogues with the stories we tell.
Eva:  When answering questions from our different viewpoints, it allows the audience to peek inside and experience a different perspective. Oftentimes, we're taking very heavy material and spinning it into a fun and accessible way that allows the audience to take in something different.

What's your favorite thing about doing this show? How about your favorite thing about performing with each other?
Greg: Eva has such a special stage presence. Audiences just love to watch her. In some ways, I'm the proxy for what is "wrong" with society in our show. I'm the straight, white, male who works in the private sector. Although my views are quite liberal, a lot of my friends and family are conservative. So I can relate to both sides of an issue. It's great to know that however close I come to saying something insensitive, Eva has my back and can win the audience over.
Eva: Greg is selling himself short.  I love how he's able to lead as well as follow in a scene. He knows when to fall on the stereotype of straight, white, male, but he'll also know when to take a turn on something and show a different type of white dude.  There's never been a time when I felt like I was alone in a scene because Greg always has my back and is working to make the scene fun and interesting. He just knows how to make a scene work and that's a big part of why we're able to have such good shows.  
Who are some of the special guests you've had in your show lately? Why did you begin inviting special guests and what have they added to the show?
Greg: I think the best skill you can have in improv and comedy is a "professional curiosity." I love interviewing our guests and hearing stories and perspectives I've never known about. We had Sabahat Chaudhary as a guest, and while I've known her for years, I had no idea her family was from Pakistan. Another show, we had Jamal Newman on, and I asked him a question about the Beatles. He said he'd never listened to their music. What amazing gifts to play with in an improv scene when you realize the different perspectives.
Eva: Greg and I know that our perspectives aren't the only viewpoints in town, and it's good to explore this format with other types of folks.  For instance, after the election I found it hard to understand why the majority of white women voted for Trump.  We had Lura Barber in our show, and I asked her why.  Of course, she gave a well-crafted response that summed up the thousands of articles written on the subject. Only she could give that perspective as she's a white woman and knows more white women who voted for Trump than I do. She laid out the case, and I was like, "Yup, that's true!" And we had a great scene.
Interview by Abby Wolfe
Published:
December 5, 2017