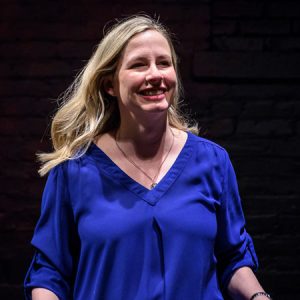 Molly Murchie joins WIT staff as marketing associate
Get in the "Teen Spirit": Contribute to WIT's silent auction
Kelsey Peters on The Feminine Experience: "This show has truly changed my life"
Molly Murchie will join Washington Improv Theater's staff as its new marketing associate. In this newly created role, she will support and enhance the organization's marketing efforts in areas including social media strategy, media outreach, and digital advertising.
Prior to coming to WIT, Murchie worked for 16 years at C-SPAN as a communications specialist where she was responsible for tasks ranging from copywriting, managing digital advertising, coordinating focus groups, and conducting search engine optimization. She is also a current contributor to DC Metro Theater Arts and a contributing editor to The Thrill Begins, a website of the International Thriller Writers Group.
Molly holds a degree in English from Baylor University and a master's in creative writing from Johns Hopkins University.
Artistically, Molly is a member of the WIT ensemble Hellcat and has appeared as a cast member of the WIT special project In Lieu of Flowers as well as the former WIT ensemble Jackie. She is a former FIST champion with the team Meanwhile, Back at the Ranch.
"In addition to her extensive marketing experience and project management skills, Molly has been involved with WIT for nearly its entire organizational history. She brings a wealth of professional knowledge and a deep love for the organization and its mission," said Dan Miller, external relations director. "I can't wait to get started working with Molly and witnessing the power of her much-celebrated collection of multi-colored felt-tip and gel pens."
Molly reports for duty on March 11, 2019.