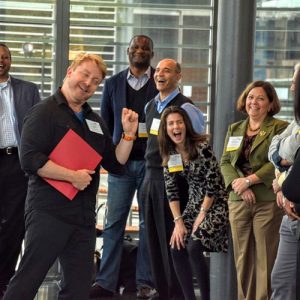 LIMITED TIME: De-stress with your office with a special one-hour improv session
WHO'S WHO: THE FIST TEAMS OF 2022
National Endowment for the Arts awards WIT a new grant to support Project Create partnership
Is your team a bit fried? Has the grind of the "new normal" worn everyone down?
A one-hour virtual improv session with WIT@Work will lift your team's spirits and provide much-needed laughter and connection. For the months of January and February only, we are offering a special one-hour session designed to rejuvenate your team and make space for levity. The cherry on top of this fun workshop? You and your team come away with knowledge of key improv concepts and how they can create success in any collaboration.
For a flat rate of $500, WIT@Work Director John Windmueller will facilitate the hour-long interactive session for your team. It's low-pressure, high fun, and works great over Zoom. Windmueller has experience working with teams of all sizes and from every sector—from small nonprofits to Fortune 500 companies.
How much value do you place on a happier team? WIT@Work offers fun with a purpose—we use the principles of improv to enable fun and laughter, while also demonstrating the power of creative collaboration and communication.
Schedule a session today: Fill out our interest form and we'll get back to you within one business day.