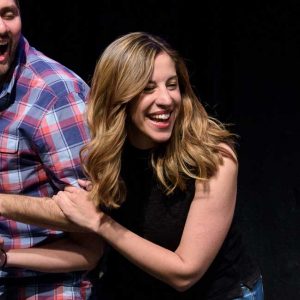 Q&A: Jaci Pulice Opens the Yearbook
Q&A: The gory details behind Nox! Marry! Kill!
Submissions Open for Improvapalooza 2017
Jaci Pulice (Commonwealth, iMusical) is the director of Yearbook, premiering as part of WIT Presents: Summer School this July. She opens up about her artistic approach to the show, her own high school experience, and what it's like "building the book."
What can audiences expect during Yearbook?  Can you give us a sneak peek at the format?
Jaci: We want the show to feel like you're glimpsing into a yearbook—we have a cool "snapshot" device, and we'll also be using audience members' yearbook quotes and their high school activities to inspire characters. 
What inspired you to take this walk down memory lane to develop the show?
My cousin is a freshman in high school and she sent me a video of her performing in their class wars competition. It took me back immediately. I lived for that stuff.
I remember the feeling that EVERYTHING was riding on winning our Battle of the Classes. I wanted a show that captured that feeling—the essence of high school and how much it all matters. I was editor-in-chief of my high school yearbook and turns out [assistant director] Ryan Krull was too. It seemed like a fun device to frame a show and it's been double the nostalgia getting to relive that "building the book" experience together.
Why do you ask the audience to share pieces of their high school experiences?
Audience engagement will be a huge piece of our show. Yearbook quotes are such a fun way to paint a picture of someone's teenage persona. Cast members will treat the yearbook quote like it's their character's mantra. We also wanted to challenge ourselves creatively to play characters that may be out of our comfort zones and what better way to do that than to take on the "ethos" of someone else.
There are quite a few teams and ensembles represented in your cast—what has the process been like getting settled into this new troupe?
It's been a fast and fun journey! The first practice we had started with our photo shoot and it was such a great way to immediately get comfortable with one another. The cast has been so instrumental in shaping the show, giving feedback in the moment and being flexible to trying things different ways.
Even in auditions, from what we saw we realized that teachers are such a big piece of the HS experience. We had originally said cast members would only play high school students but after auditions we realized we needed to fill the world out in a way that is reflective of that. I love improv because everyone is directing and writing at once. This really feels like OUR show; we're building in the moment. Everyone is so talented and I love shows like this when we get to experiment with different player chemistries.
We all have common ground to draw from when we think about high school. How do you strike the balance in creating stories that are relatable, yet still surprising and new?
I think it's a fine balance of high school heart and adult brain. Unrequited love will always be unrequited love. There's no changing what that IS but there are so many different fun angles to attack it from. A little life experience and "coudla shoulda woulda" will lend itself to some great artistic choices.
High school memories can be nostalgic, nightmarish, and everything in between. Is anyone in the ensemble reliving their glory days, or do you find yourself thinking "thank god that's over!" ?  
It's funny, we all described high school selves at the beginning of our first practice and I felt a general sense that we all still are who we were then to a certain degree. I, for example, said I was over involved and bossy, had penchant for getting my way. Here I am directing an improv show, busy every night of the week, and in sales for a living. Some things never change. We just become more self aware.
The show is so technically complex that we've all been in the mode of getting it right that I don't know how much those feelings of "reliving" have hit us. I almost prefer this because I don't want the cast to tire of it by the time we're in run. When those feelings come flooding back  it will be live, fresh and so rewarding for the audience. This show isn't about caricatures of high schools, it's about honoring what a glimpse into year of high school would be like and with that comes a LOT of feelings. We're going to run the gamut of them.
Any "aha" moments from rehearsal that are getting you excited to bring this show to the stage?
Ray Simeon is on board as our tech director and it's been an "aha" moment from the minute he came into practice. I don't even want to share some of the stuff he's suggested and going to contribute because it's going to be so fantastic. We also realize that a LOT of the cast freestyle rapped in High School so who knows? Maybe we'll see an epic cafeteria rap battle? Fingers crossed.
When can you join the fun? See the Yearbook show schedule here.