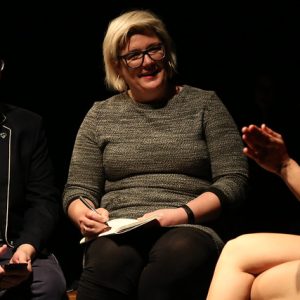 In Lieu of Flowers Returns with Special Guests
Harold program adds 23 new players to the program
Farewell Love Onion, hello Uncle Gorgeous
Life and Death with WIT, Washington Improv Theater's upcoming special performance series at Spooky Action Theater in November, will feature a remount of In Lieu of Flowers—a show that memorializes the life of an audience member or special guest with an improvised funeral. The show uses comedy and drama to explore the human experience of death and our desire to see how others will remember us after we shuffle off this mortal coil.
Created as part of the 2018 Director's Series by Lura Barber and Zach Mason, In Lieu of Flowers uses love, loss, joy, grief, and mortality to celebrate our interview subjects. For this remount, WIT is pleased to welcome two very special guest interviewees.
Fri., Nov. 1, 9:30 PM, "Prince of Petworth" Dan Silverman: Called the "King of Neighborhood Blogs," Silverman began the PoPville blog in 2006. Today PoPville is a must-read site for those who want to be in the know about DC neighborhood news.
Fri., Nov. 8, 9:30 PM, Alexandra Petri: Writer Alexandra Petri is a Washington Post columnist offering a lighter take on the news and opinions of the day. She is the author of A Field Guide to Awkward Silences (2015) and writes the ComPost blog for the Post. 
Life and Death with WIT will also feature WIT's company ensembles, featured ensembles, and special guests. Tickets are on sale now.
Published:
September 18, 2019