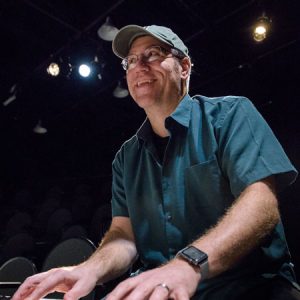 iMusical seeks new performers to join the ensemble
WIT to require booster shots, medical-grade masks in light of omicron
Space update: A note from Artistic/Executive Director Mark Chalfant
Note: iMusical's January auditions have been postponed due to Covid precautions. If you did not sign up but would like to be notified of future auditions when they are rescheduled, please send a note to Patrick Fleury at fleurypb@gmail.com.
Do you have improv experience, a desire to stretch your acting chops, and a lack of fear of singing in public? Do you want to create instant musical theater with people who love musical theater? If so, you should totally audition for iMusical!
Open call auditions will be held on two dates: Tuesday, January 18 between 7 PM and 9 PM, and Saturday, Jan. 22 between 11am and 3:30pm at the Source Theater (1835 14th St. NW) in the ground-floor black box space. The callback audition will be held on Monday, Jan. 24 from 7 PM-9:30 PM also at the Source Theater in the ground-floor black box space.
The deadline to sign up for a slot within open call auditions is Sunday, January 2 at 11:59 PM. Improvisers of color and LGBTQIA+ folks are strongly encouraged to audition.
Important COVID information: Proof of vaccination against COVID-19 is required. Please be prepared to show your vaccine card, legible photo of said card, or insurance information, along with a photo ID. The plan is for all auditions to be masked – auditioners and observers alike – and with social distance as much as possible. If audition dates are postponed, due to the dynamic nature of the coronavirus pandemic, we will notify registrants with updated information as soon as possible.
Rehearsals are Monday evenings throughout the year, from 7:30 PM to 9:30 PM, usually in the Columbia Heights or U St. NW neighborhood. Our show generally performs approximately 2/3 of the year on Friday or Saturday evenings, seasonally, with most performances at the Source Theater. Attendance at rehearsals and performances (until ready to perform) is mandatory. While pay is generally not provided, there are irregular opportunities for compensated performances, usually due to private/corporate events.
More information about our show can be found at http://imusical.org and there are videos available on YouTube at https://tinyurl.com/imusical-youtube
If you have questions about your qualifications, or anything else related to iMusical, feel free to email the director (Travis Charles Ploeger) at iloveimusical@mac.com.
Published:
December 15, 2021