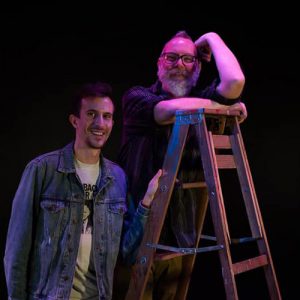 An interview with (y)Our Town directors Bill Nelson and Matt Strote
Big News: We need your help in writing WIT's next chapter
iMusical seeks new performers to join the ensemble
This week, WIT's premieres its first major production since the pandemic: (y)Our Town, directed by Bill Nelson and Matt Strote. The show, inspired by Thornton Wilder's legendary play Our Town, takes inspiration from audience suggestions of items they would like to be remembered by in the future. Those items will be referenced throughout the evening as cast members create an improvised small town on stage.
Nelson and Strote took time to discuss how they conceived the show and the cast they recruited to make it come to life.
How did the two of you decide to work together? And how did you come up with the idea for (y)Our Town?
Bill: Out of sheer happenstance, Matt and I were on an audition panel for another project. After the first couple of rounds of auditions we started talking about how no one had selected a monologue from Our Town as an audition piece. It really seems that Our Town is the most famous play that few people have read!  We discovered a shared interest in seeing improv performances with as much heart as humor. And from there we connected that desire to Thornton Wilder's masterpiece. 
Matt: Bill and I were familiar with one another through the Harold program at WIT as well as being in the general orbit of one another through the DMV theatre scene; he works for Washington National Opera and I work for Signature Theatre. Over many coffee meetings and zoom chats, we pieced together a dramatic improv format that takes elements of the Harold format, references to Thorton's piece and the energy/talent of the DC improv community to put it into one whole show structure!
In a nutshell, how can you describe the show you've devised? What's your elevator pitch?
Matt: Join a talented cast of improvisers and actors as they create a never to be seen again town through tangible objects, distant memories, and unique personalities that have shaped the audience's life. Witness how seemingly small everyday pieces of your life can have a much larger impact than you thought they did.
Bill: In a nut shell? Yeooow! Um… the citizenry of a small town sift through the memorable parts of their lives, the good and the bad, to inform, delight, and inspire the generations that follow. 
What was the rehearsal process like? What surprised or delighted you about working through the show with your cast?
Bill: When we conceived the show it was just the two of us. When we pitched and planned it, it was still just the two of us. It's really frightening and daunting to work that way. When we finally got into rehearsal we were struck with the relieving memory that as improvisers we never truly do this alone. Having the full cast there and with Matt, an incredible collaborator, all that fear washed away. We could do this… actually pull it off!
Matt: The rehearsal process was a blast. Getting to work, develop, edit, and shape this show with this whole team has been fantastic. We have been lucky enough to have a solid amount of rehearsal runways built into the schedule to allow us the time to really tweak what we have in a patient and honest way. I've been consistently blown away by how well these performers can maintain a delicate balance between playing incredibly earnest characters and ones that are entertaining and hilarious to watch. Every rehearsal has been a delightful mix of discovery, honesty, heartfelt hands on your chest moments, and laughter!
Tell me more about the cast. What were you looking for in the audition process and what makes this cast special?
Matt: The show itself is made up of a stellar cast and it was certainly not easy choosing a final roster based off of the outpouring of talented and hungry performers we saw at auditions! We were looking for performers that can be themselves onstage, engaging collaborators, open to the world and scenes around them and be genuinely curious about the past, present and future and be willing to reflect on that. (Which can be pretty scary at times!) This cast is all of these things and more. It is a stellar balance between large personalities, dynamic observers, patient players, and the like!
Bill: We were interested in finding cast members who were comfortable playing in emotional realms we often don't see on the improv stage. And truthful emotions at that. We wanted a cast with a full range of life experiences to pull from. Personally, I was interested in having a strong representation from the LGBTQ+ community. 
The show deals with the future and remembrance, what would you want to be remembered by in the future?
Bill: I've spent the past 25 years working as a costume maker for theaters across the country. To memorialize my work and life as an artist and artisan I've often thought of having a display of all the beautiful costumes and gowns I've made over the years. But only the beautiful ones. The terrible ones should be systematically and unceremoniously shredded and burned. 
Matt: Emotionally or mentally I would like to be remembered as someone that helped bring people, things, concepts together. I think I am at my best when I make others their best and don't take the limelight. I'm happy when other people are at their happiest and finding joy and satisfaction in what they are doing. Physically though, I would love to have a dedicated balloon in my likeness every year in the Macy's Thanksgiving Day Parade.