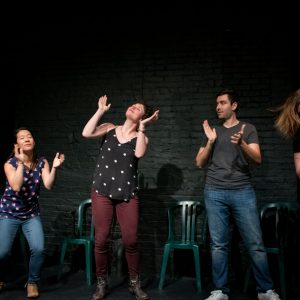 Improvisers from around the world invited to WIT's global jam as part of #WITConnection
WIT dedicates month of May to inspiring connection #witconnection
Astronomy Club's Monique Moses to teach sketch, improv workshops
Improvisers across the world are invited to join WIT for a global jam on Sunday, May 16 as part of #WITconnection. Players of all experience levels are invited to join in this Zoom event designed to connect people across the world in the common language of improv.
We encourage you to invite your friends from across the country (and the world!) to participate in this event. This free online jam will take place on Sunday, May 16 from 3:30 to 5 PM ET, and will be hosted by WIT team members Mark Chalfant, Jordana Mishory, and John Windmueller. 
Jams are a high-fun, low-stress environment where you can connect and play with fellow improvisers in a supportive environment. Jams are a great place to be silly, practice a skill, and/or connect with new and old friends over the collaborative world of yes-and.  
The jam will consist of a warm-up, an option of break-out rooms to play in specific formats or skills (player's choice of which room to join), and an all-play scenic montage. 
Attendees are encouraged to sign up in advance so facilitators can get a rough headcount (though of course drop-ins welcome). 
In addition to the Global Jam on May 16 as part of #WITConnection, WIT hosts free bimonthly online jams. Improvisers of all experience levels throughout the world are invited to participate in all jams.
Mark your calendars for future jams:
Wednesday, May 5 at 7 PM

Sunday, May 16 at 3:30 PM (as part of #WITConnection)

Wednesday, June 2 at 7 PM

Sunday, June 20 at 3:30 PM

Wednesday, July 7 at 7 PM

Sunday, July 18 at 3:30 PM