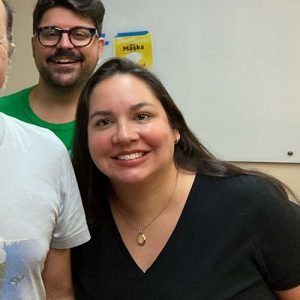 How Improv Can Lower Your Anxiety Levels
WIT Seeks Production Manager 
WIT launches artistic residency at Studio Theatre for 25th anniversary season
WIT grad Dr. Clarissa Zies has an interesting equation she is exploring: Improv + Therapy + Gaining Friends = Less stress and anxiety.
Clarissa recently finished her dissertation in psychology, for which she studied participants in WIT's improv classes. We talked to her about her background and the impact improv can have on lowering levels of anxiety and depression through the study she conducted with WIT students!
Tell us about yourself! What's your improv/performance background? And what's your academic background?
My performing background started very early, learning dance and being on stage at age three. I used to perform skits and monologues instead of bringing items to school for show and tell. I started doing theater when I was 13. In college, I majored in theater and minored in dance, then taught dance and theater for a while. I then worked for Walt Disney World as a mouse or duck. I took writing classes at Second City. I completed improv classes at SAK Comedy Lab in Orlando, where I learned shortform. I moved to DC, received a WIT scholarship, completed the classes, and learned longform.  I have performed in various WIT shows, dramatic improv shows like The Heist and Veritas, and am on the improv team IRL. 
I am also a doctor of psychology in clinical psychology. I have a master's of science in clinical psychology with a specialization in applied research, a master's of arts in clinical psychology, and a bachelor's degree in theater with a minor in dance. I can also run a four-minute mile.* 
*This is a straight-up lie.  
Your research deals with improv and how it relates to anxiety and depression. How did you get interested in this topic?
I love working with mood disorders, which sounds weird to say out loud.  I have generalized anxiety and I noticed that improv helped me manage my own anxiety. Improv is unpredictable and provides a built-in support system of like-minded individuals. Anxiety is often focused on the future and control; however, with improv, you cannot predict the future or control the scene; you just yes, and it. The research idea came about after rehearsing for [improvised bank robbery] The Heist at a cast dinner; I was discussing the dissertation process with some of the cast and I said I wished I could do my dissertation on improv, and they said why don't you? So after that dinner, I started looking into the possibilities for the research and knew I wanted to do it with WIT specifically, as WIT does tons of outreach for the community.  
For your research, you surveyed WIT students. How did that relationship come about and what did your research project look like?
There was a gap in the research for improv and anxiety. Some improv schools provided anxiety for improv classes, but they were generally either run by mental health clinicians or by improvisers, but often not a person who was in both worlds. I am a theater/improv person who also happens to be a psychologist. I mentioned a very loose version of the idea to Mark Chalfant at Improvapalooza and then met with Jonathan Murphy, WIT's former Education Director, and we tossed around ideas. WIT was extremely helpful and open and agreed to partner. A special shoutout to Kacie Peterson, who sent out hundreds of emails for me! She is so kind and helpful. 
The study was a quantitative pilot study, which means it was numbers based. Emails went out from WIT to current improv students (levels 1 to 5) that included questions on demographic information, self-report measures of anxiety and depression symptoms, and quality of life. The survey was also open to individuals who completed all five levels of improv classes at WIT. After two months of data collection, we compared the groups scores. The project spanned almost three years, from initial meetings to data collection to publishing. Thank you to everyone who completed or shared the survey.  
So what did you learn from your research respondents?
The biggest takeaway was that the adults who completed levels 1 through 5 at WIT had lower levels of anxiety and depression than those currently enrolled in WIT classes. Students presently enrolled in improv classes did not have as much exposure to improv and have not learned all the possible skills that improv classes may offer. While the more experienced students had lower anxiety levels, the newer students may not yet be able to apply flexibility when employing coping skills and may not yet be able to manage the anxiety levels experienced. Like any skill, it takes time to build improv skills or intervention mechanisms to reduce anxiety. So stay in WIT school kids!
What is your point of view about how improv relates to levels of anxiety and depression?
My clinical answer is that various studies indicate that improv blended with therapy can be beneficial in reducing anxiety and depression levels. While improv may not be a traditional treatment option, it may teach a healthy manner to manage and potentially reduce anxiety symptoms while accessing a community of like-minded individuals. Additionally, the opportunity to gain friends and actively participate in an enjoyable activity may positively affect anxiety, depression, and quality of life. So long answer short, Improv+Therapy+Gaining Friends = Less stress and anxiety.
Sign up for a Level 1 Foundations of Improv class! Learn more here.
Published:
September 21, 2022