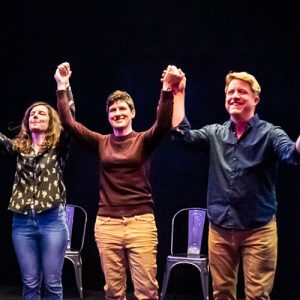 WIT launches artistic residency at Studio Theatre for 25th anniversary season
How Improv Can Lower Your Anxiety Levels
It's Our Birthday: Become one of 25 new monthly donors for our 25th anniversary
Starting in September, Washington Improv Theater will begin a year-long residency at Studio Theatre, located at 1501 14th St NW (at the corner of 14th and P St.). Studio will be home to all of WIT's performance programming as well as student showcases and other programming.
The residency coincides with WIT's 25th anniversary season and WIT Artistic Director Mark Chalfant has created an ambitious season filled with artistic collaborations, provocative themes, director-led projects, and WIT's iconic Fighting Improv Smackdown Tournament. We know you've got a lot of questions, so we've got answers.
Frequently Asked Questions
How did this partnership come about?
We put a call into the world and the world responded! Shortly after we announced our need for a space, Studio Theatre reached out to explore opportunities. We've been working on the arrangement details for a few months and sealed the deal a short time ago.
What happens after the residency?
We are still looking for a permanent home after our residency ends in August of 2023. Please reach out to mark@witdc.org if you have any leads.
What's included in this arrangement?
All of our performance programming will take place at Studio over the course of six runs. Four of these runs will take place at Studio Theatre's Stage 4, a black box theater. We'll have one run each in the Milton and Mead Theatres. WIT is also planning regular late afternoon shows for independent teams and projects.
Our weekend performances will, by and large, only be on Friday and Saturday nights. The season in a nutshell:
Playing It By Ear featuring iMusical (Sept. 30 – Oct. 22 in the Milton Theatre)


WIT begins our Studio Theatre residency with a music-themed run. WIT's ensembles draw inspiration from lyrics, background music, and more. The run spotlights WIT's veteran ensemble iMusical.

Ask Me Anything: Changemakers (Nov. 18 – Dec. 10 in Stage 4)
Social media never fails to tell us all the ways the world seems to be falling down around us, but there are also people doing amazing things to change world for the better. This run features interviews with people who are making the world better. From politicians to artists, we'll interview local changemakers and use those interviews as inspiration for a set by WIT's improvisers.
Also featuring

Motherload

: This run also features a remount of

Motherload

, the winner of Capital Fringe's Best Comedy. Created and performed by WIT ensemble members Jenna Hall and Justine Hipsky, the show is an autobiographical dark comedy about the wounds that accompany complicated mother-daughter relationships. 

WIT Experiments with ____ (Jan. 20 – Feb. 11 in the Mead Theatre)


Every artform can use a bit of spontaneity. For this run, WIT collaborates with artists from far-ranging disciplines to create unusual and spectacular hybrids. What happens when you fuse improv with dance? With scripted theater? Let's find out!

Fighting Improv Smackdown Tournament (March 10 – April 16 in Stage 4)


WIT brings our no-holds-barred (but totally friendly!) improv tournament to Studio! For our fifteenth tournament, audiences are invited to vote for their favorite teams to advance until there is one victor!

Money Changes Everything featuring Not a Pyramid Scheme (May 19 – June 10 in Stage 4)


We've all got the late-stage capitalism blues. But we're still finding joy amid the corporate hellscape. This run features shows about how money motivates people, changes relationships, and just — well — changes everything.




About

Not a Pyramid Scheme

: Want to become a "boss babe?" Peek behind the curtain of the scam-ridden (yet earnest!) community of multi-level marketing schemes. Directed by Kaelan Sullivan Fleury with Assistant Director Clare Mulligan,

Not a Pyramid Scheme

comedically explores the quest for meaningful connection and financial independence in an exploitative and regressive industry.

Genre is a Construct featuring Tumbleweed! (July 7 – July 29 in Stage 4)


What's a genre anyway? We've all seen film noir and romantic comedies, but these days genre can be anything from Law & Order: SVU-style procedurals to the Real World/Road Rules Challenge. WIT's ensembles take nods from popular and not-so-popular culture in this nod to genre.

This run concludes with Improvapalooza, WIT's annual festival of experimental improv.


About

Tumbleweed!

: Calamity! Love! Foolishness! You are "Wanted!" to see a delightfully silly improvised western filled with colossal characters, extraordinary action, and a live score. Giddy up and let

Tumbleweed!

take you on a journey through the wild, wild west. Directed by Jared Smith.
Studio will also serve as the new home for Harold Night, which will move to Wednesday nights. The event will continue to be free. WIT will also host Improv for All workshops, jams, and workshops at Studio as schedules allow.
Classes will continue to take place in venues like the Latin American Youth Center and Universalist National Memorial Church. WIT's staff will continue to work remotely.
Does this mean WIT is part of Studio?
Nope. Studio is not involved in any artistic programming decisions—they are simply providing us with an artistic home for a year.
Is your COVID policy going to change?
Yes and no. Our current COVID policies will remain in place when it comes to our classes program. However, as we are guests as Studio we will abide by their policy. Starting in the fall, Studio will continue to require audience members to mask in performance spaces but will not be checking vaccination information.
Does that mean you're going to be holding auditions for Harold teams? 
Yup. More on that soon.
What do performance opportunities look like for improvisers in the community?
There will be multiple pathways to performing at WIT including auditioning to be a part of our Director's Series shows and being part of mash-up casts. We're also planning regular curtains in the late afternoon spotlighting indie teams. The best way to stay on top of these opportunities is to follow us on social media (Facebook, Twitter, and Instagram) and sign up for our mailing list.
This is amazing. How can I help?
There are lots of ways to help make the most of this amazing opportunity.
Sign up to volunteer. We need help checking audience members in and helping them find their ways to the theater. Plus, you'll get to see a free show.
Become a monthly donor. We're looking to add 25 new monthly donors to our team before the end of August. Will you be one of them?
Published:
August 24, 2022