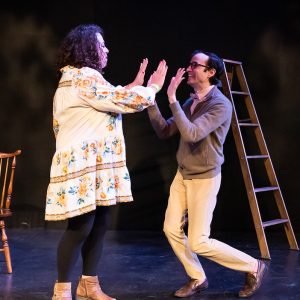 It's Our Birthday: Become one of 25 new monthly donors for our 25th anniversary
WIT launches artistic residency at Studio Theatre for 25th anniversary season
Audition: WIT ensemble The Hypothesis seeks new members
Washington Improv Theater began in 1998 with a small group of students taking classes in a living room. Together, we've grown a thriving community of creative Washingtonians.
This growth wouldn't be possible without the sustained support of people who believe in the transformative power of improv and WIT's mission to share it across DC. As we embark on our 25th anniversary season, we are looking for 25 people to join the ranks of our team of monthly donors.
Donations enable us to:
Share improv with communities across DC with Improv for All workshops serving all eight wards of the District.
Significantly increase our investments in community partnerships including DC Public Schools, Project Create, and the Armed Services Arts Partnership.
Invest in our work to become a more equitable and inclusive organization. Over the upcoming year, we are investing in professional development for our teaching artists to help create a more inclusive classroom environment. We will also continue to enroll students in our program through our inclusion scholarship.
Published:
August 23, 2022