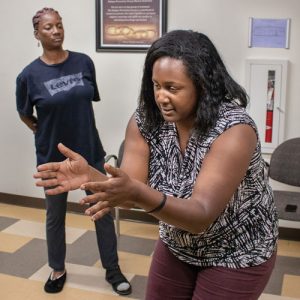 Hellcat's Krystal Ramseur empowers women through improv
WIT holds Improv for All workshop for furloughed federal workers
The Best Way to Support WIT's Work
A few months ago, WIT called to ask me for help running workshops for women experiencing homelessness who are working to get back on their feet. I immediately said yes.
The project fit perfectly—in addition to performing with Hellcat, I also work professionally with an adult charter school. I knew the women would get a lot out of learning improv simply because I know how much WIT has changed my life. And yet I was still stunned at how immediately and how profoundly the work impacted these women at Calvary Women's Services.
In our cathartic "stretch and share" exercise, they speak honestly about their lives in a supportive, open, and safe environment. In exercises like "Three-Headed Expert," the women gain confidence by speaking with authority through the voice of a character they create together.
A few days ago one of Calvary's staff member pulled me aside. She said, "I know you don't always see this, but I see these women before class, and they are emotionally at a 3 out of 10. When they leave class, they're at an 8." It's not an overstatement to say that WIT changes lives every day.
It's more than just fun and games—we're lifting spirits and building confidence through our work with the women at Calvary, with students in DC Public Schools, with teens at Kingman Boys and Girls Club, and so many more.
I donate to WIT every month. It's the best way to support WIT's work and for the organization to continue taking on new projects.
You can also make a one-time donation. Every dollar enables us to further our mission of making DC a place that is more positive, collaborative, and joyous.
Of the many worthy causes out there, WIT's mission is singular in DC. Help us transform DC by converting insecurity into confidence. By turning isolation and loneliness into laughter and empowerment.
Sincerely,
Krystal Ramseur
Published:
December 21, 2018