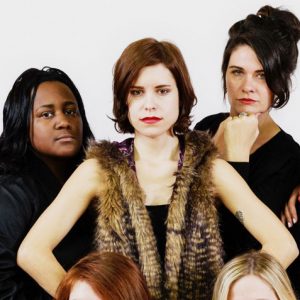 Hellcat's Jenna Hall teases collaboration with Super Art Fight
WIT casts 17 new Harold team players
WIT receives first-ever grant award from the National Endowment for the Arts
Starting Thursday, WIT's newest ensemble Hellcat will team up with artists from Super Art Fight for a four-night collaboration as part of WIT's series Interplay. Super Art Fight is a visual arts spectacle that combines illustration with the theatrics of professional wrestling. Hellcat's Jenna Hall took some time to tell us what to expect.
How did Hellcat get to collaborate with Super Art Fight?
They were actually matched up to us, we did not know who we would work with when we agreed to be part of Interplay. However, I was excited to see we were going to collaborate with Super Art Fight because a few of us have seen their show before and have loved the blend of art and theatrics. I remember being very impressed by how entertaining they were able to make the art of drawing.
I had always experienced drawing and sketching as a quiet and contemplative activity. Super Art Fight, on the other hand, is a rowdy spectacle. But don't let the wild WWE-esque characters fool you, the art they're able to build by the end of the show is anything but amateur. Oooooooooh yeah!
What can audience members expect to see?
I'm imagining the show will turn out to be something like a Hellcat Cartoon. The audience will get to see our show enhanced with dramatic backdrops. There will be a back-and-forth of inspiration, whether we're giving Super Art Fight ideas to draw, or they're giving us ideas to bring to life through scene work.
How is this project a new challenge for the improvisers in Hellcat?
Coming up with ideas on how to merge our two shows felt easy. The challenge, (or should I say the exciting part?), will be seeing how it all comes together on the stage. We can't wait to see what kind of art baby Hellcat and Super Art Fight is going to make.
Get tickets to see the collaboration, beginning this Thursday, May 17 and ending on Sunday, May 20.