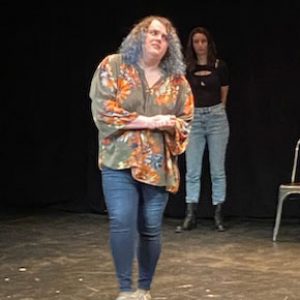 Hannah Piper: After digging into improv, "something miraculous happened"
Meet WIT's board: Matt Alexander
WIT Alum Shravan Amin Talks About Bringing Improv to Ozark, The Walking Dead
Hannah Piper's journey with WIT began with a single Improv for All workshop. According to a letter she wrote to WIT, she couldn't have anticipated how much improv and the WIT community would changer her life in the months and years to come. 
Support WIT with a year-end donation! Help us reach our goal of $25,000—donations will be matched by a pair of foundation grants.
My journey with WIT is not yet a particularly long one. Like many people, I took an Improv For All workshop, and found it to be very engaging. I signed up for a level 1 class, and it blew my mind how much fun I had. I advanced to level 2, where I was now required to go to shows. As I stood there at my first Harold night, totally alone, but surrounded by people who were all so excited to see each other, I made a decision. After living in the DMV for years, and being highly introverted, I was going to dive headfirst into this, and make this my community. I walked back to my car smiling, feeling the chilly breeze of February 2020 on my skin.
We all know what the next few months were like, but as an added challenge I decided that now was the time to resolve years of gender identity induced angst and come out as a trans woman. Facing this, I looked at improv and said "not now." When my level 4 teacher asked if I would continue on to level 5, I explained that I felt I needed time on my own while I started my transition. She celebrated with me, then paused, looked me in the eye and said "that's a bad reason to take a break from improv." I was completely taken aback, but ultimately let her talk me into continuing, a decision that changed my life.
I finished the curriculum, and then waited for the pandemic to let up enough that we could return to in person activities. My transition continued, and, without getting into specifics, let it suffice to say that my relationships with my family deteriorated. In the summer of 2021, when WIT reopened its doors, I showed up feeling the most alone I've ever felt in my entire life. Those first welcome back weekends, I made a dozen new friends, fully expecting that I would see them a few more times that weekend, and then not really keep up contact with them, as is the way of things.
But over the next year, something miraculous happened. I kept showing up to the theater, and people kept being happy to see me. I took an Advanced Harold class, where I got to play in person with some of the people that had endured the mixed blessing that was zoom improv with me. I reconnected with people I'd played with before the pandemic started, and we commiserated over our lost showcase. Some of the people I met at WIT started making regular plans to hang out on the weekends, and it quickly became a regular thing where I packed an overnight bag and crashed at their houses on a Friday night. I was invited to try stand up, something I'd never even considered doing, and found yet another art form to express myself. For the first time in my life I started thinking of myself as a "creative type."
I wanted to give back to the theater that had offered me so much already (and also to see some shows for free), so I started volunteering. More than one long term WIT alum has remarked to me that they've come to expect seeing me at the theater. It was fun to keep seeing those people who I'd met over the summer, to have them ask what I had been up to, tell me they were excited to see what awaited me, and encourage me to keep putting myself out there. One day I had an email from Jordana that said "hey. You're already around the theater ALL the time. Would you like to join the front of house team?" And somehow I was now at the theater even more. One great trick I found for getting to know the other members of the community is to work in the spot where you check vaccinations. It's easy to remember someone's name when you're holding their driver's license.
I kept taking classes with WIT, various electives now that I'd completed the core curriculum. It gave me more opportunities to play with people, solidify friendships. Nothing helps people bond like getting to be utterly silly together. I remember sitting around after my last musical improv class, getting drinks and talking shop. I offered some insight I'd had about improv, and my (now former) teacher and friend Molly Graham told me "You should teach a class." And so I signed up to be a TA. I started leading workshops, and just this past week attended my first formal class as an instructor, not a student. And I even enjoy pitching improv as hard as I can at the end of a workshop, because I do genuinely believe everything I say about the good it has done for me.
Performing has helped me feel more comfortable in my own skin at a time in my life when feeling that way is both harder and easier than ever. It's helped me rediscover myself in so many ways, as I've learned that I am in fact a creative type, that I'm not an introvert but in fact more extroverted than ever before. I have more friends and meaningful relationships than I've had since middle school. I've attended events all over the city and run into people I met either directly at WIT, or met because of the people I met at WIT. Every major holiday of the last year I've been with people I met through WIT. Christmas, Thanksgiving, my birthday, and more. When I first started, I'd hoped to find a community. What I've found instead is a family.
Support WIT with a year-end donation! Help us reach our goal of $25,000—donations will be matched by a pair of foundation grants.
Published:
December 13, 2022