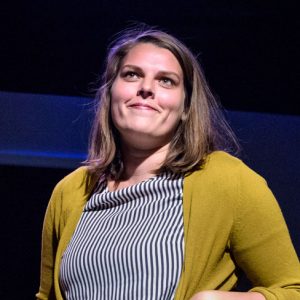 Donna Steele joins WIT administrative team as Education Fellow
WIT Releases FY18 Annual Report
Limited time: WIT t-shirts and hoodies available for pre-order
WIT is thrilled to welcome Donna Steele as its Education Fellow. Working alongside Education Director Jonathan Murphy, Steele will help coordinate day-to-day activities of WIT's education program as well as support other aspects of the organization's operation.
Steele is a member of WIT company ensemble Hellcat, a faculty member, and a former coach in the Harold program. She has also taught as part of WIT's programming for youth in DC Public Schools. Before coming to WIT, she performed and directed at Richmond's Coalition Theater.
"Donna's experience and skills will be a huge asset to WIT and our education program," Murphy said. "She's an excellent communicator and has tremendous skills in planning and logistics. I look forward to having her on the team to help conceive creative ideas and help implement them."
Prior to coming to WIT, Steele worked as events manager for Soapbox Inc., a feminist speakers bureau. She is currently a freelance photographer and videographer.
Published:
October 25, 2018