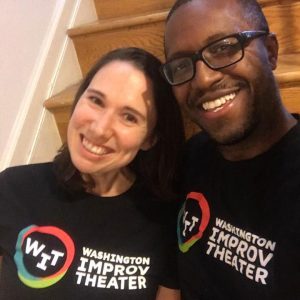 Limited time: WIT t-shirts and hoodies available for pre-order
Donna Steele joins WIT administrative team as Education Fellow
Katie Ozog submits You Are Afraid of the Dark for your approval
You can now add an official Washington Improv Theater hoodie to your closet! Looking for one of those WIT t-shirts your friends or teammates are wearing around? We have those too in long sleeves!
Our black long-sleeve tees feature a full-color logo and are just $20 including delivery. Exact brand and sizing coming soon, but rest assured they are comfort-tested and approved by WIT staff.
Hoodies are $45 including delivery. They are all black zip-up hoodies with a full-color WIT logo in the corner. These are Gildan adult heavy blend full-zip hooded sweatshirts. If you'd like specs on sizes and other details, you can access those here.
We are accepting pre-orders through Sunday, Nov. 11. Expect delivery in early December. We do not plan to order an over-run.
Published:
October 23, 2018