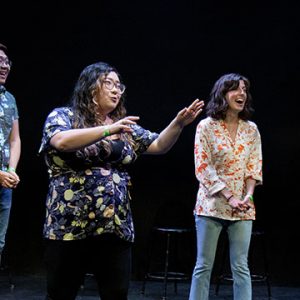 Audition: WIT ensembles Madeline and Uncle Gorgeous seek new members
Harold Night returns June 7 with three new teams
Save the date for WIT's virtual State of the Union
WIT ensembles Madeline and Uncle Gorgeous seek new members to join their teams. Find audition requirements, sign-up deadlines, and other information in the items below.
Madeline
WIT ensemble Madeline is thrilled to host auditions on June 20, 22, and 25. Please fill out the form here to apply. The deadline to sign up is Monday, June 13 at 11:59 PM.
Madeline's players strive to create joyous performances featuring memorable characters and moments of poignancy. Their shows emphasize emotional range and commitment, as well as a playfully collaborative spirit. Madeline practices twice a month on Thursdays from 7-9:00 PM in Northwest DC and is coached by Jamal Newman. Madeline is proud to be a team where everyone really enjoys spending time with and supporting one another, whether on stage or off! Madeline's cast features Adam Levine, Jasmine Jiang, Liz Sanders, Macey Schiff, Slli'm Williams, and Stacey Axler.

Eligibility requests:
At least one year of play and performance experience

Completion of WIT level 5 or equivalent 

Can commit to two Thursday rehearsals a month and shows nearly every weekend during WIT run. (May eventually roll back up to weekly rehearsals in the far future)

Communicates and responds promptly via GroupMe and e-mail

Commitment to supporting scene partners' ideas and "following the fun"

Ability to bring emotional truth to scene work, even in the midst of extreme silliness

Balance playful energy and emotional commitment
For any additional questions, please contact Macey Schiff at maceyd14@gmail.com.
Uncle Gorgeous
WIT ensemble Uncle Gorgeous is thrilled to host auditions on July 21, 23, and 24. Please fill out the audition form here by Thursday, July 14 at 5 PM. 
Uncle Gorgeous is a team who cares about what connects us. Inspired by what brings an audience member joy, Uncle Gorgeous currently performs a living room opening where the cast shares stories about their lives, before launching into a premise-based montage. The team also enjoys organic scenework and has a tendency toward large silly, group games. Uncle Gorgeous delights in playing with each other, and is excited to welcome new cast members to join their ranks!
Uncle Gorgeous is coached by iMusical's Elaine Colwell. UG practices two Thursdays a month in NW DC (Shaw), 7:15-9:15 PM, and performs weekly during WIT runs. Uncle Gorgeous' cast features: Joey Breems, Tara Demmy, Tom Di Liberto, Kristina Martinez, Jordana Mishory, and Kelsey Peters
Audition Requirement: One year of improv experience (classes, workshops, shows, etc). Uncle Gorgeous strongly encourages people with diverse backgrounds, experiences, and voices to consider auditioning. 
Uncle Gorgeous is looking for the following skills and qualities in improvisers:
emotional and physical commitment

ability to ground and articulate relationships and scenes clearly and quickly

identification of character point of view and scene dynamics

emotional range and vulnerability 

can join scenes and mirror scene partners with energy and agreement 

clear sense of silliness, joy, and play
Questions? Please email Kelsey Peters at kelseypeters12@gmail.com.