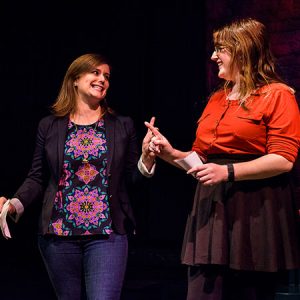 Audition sign-ups open for The October Issue and upcoming special project "Yearbook"
Jordana Mishory joins WIT staff as Operations Manager
Harold team auditions coming May 13
WIT is now accepting audition sign-ups for two project shows: the ongoing special project The October Issue and an upcoming show entitled Yearbook helmed by Jaci Pulice (Commonwealth, iMusical).
The October Issue
Descended from the original WIT special project show The October Issue, this all-women project troupe is seeking new players (who identify as female) to help it enter its next phase of development. The original project—a 2-act, 90-minute show, themed and structured after women's magazines—served as WIT's contribution to the citywide Women's Voices Theater Festival in fall 2015. Now, with a mostly refreshed cast and with interest in performing as part of WIT's ongoing show calendar, this new iteration will be finding a new name and format, while still bringing to stage the unique perspectives possible with a cast of all women.
These auditions are seeking players who have completed the Harold at WIT or have equivalent experience at other theaters. Solid emotional believability, group chemistry and sincerity will be essential.  Dana Malone (Press Play) directs the group.
SIGN UP TO AUDITION FOR THE OCTOBER ISSUE
The sign-up deadline for The October Issue is Sunday, May 14, 11:59 PM.
Yearbook
Yearbook is an improvised look at high school. This new project show will bring audiences back to explore anything from first-day jitters to flinging your graduation cap. The cast will derive a show inspired by the audience's high school activities, their most memorable events, and the high school movie genre (ex. Pretty in Pink, The Breakfast Club). In Yearbook each player is a brain…and an athlete…and a basket case…a princess…and a criminal…and an improviser.
Auditioners should have completed Level 5 (Harold) at WIT or have commensurate experience. Ideal cast members should be comfortable engaging with audience members, have familiarity with (and enthusiasm for) high school tropes, and have strong skills in character work and narrative structures. This show seeks both male and female improvisers.
SIGN UP TO AUDITION FOR YEARBOOK
The sign-up deadline for Yearbook is Thursday, May 11 at 11:59 PM.