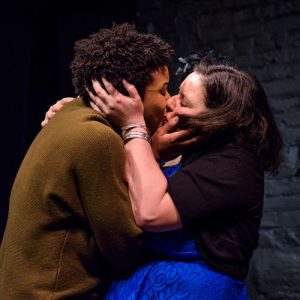 Audition: Romantic comedy Improv Actually seeks new cast members
Introduce your business to WIT's community: Become a sponsor
Raymond Simeon joins WIT staff as Production Manager
WIT's improvised romantic comedy seeks new cast members. Based on the hit holiday romcom Love Actually, this show has a heavy focus on relationships, falling in and out of love, and everything that happens in between.
The show will be directed by Macey Schiff (who will also be performing), and will feature returning cast members Ceci de Robertis, Erica Johnson, Erick Acuna Pereda, Katie Ozog, Matt Winterhalter, Nic Small, Ryan Krull, and Zach Beattie.
Auditions will be held on October 29 and November 5 at Source (1835 14th St. NW). The deadline to sign up is 11:59 PM ET on Sunday, October 22. Audition slots are limited and not all who sign up may be invited to audition.
Eligibility requirements include:
Completion of the WIT Curriculum or relevant experience. Additional performance experience strongly desired.
Auditioners must be available for weekly Saturday rehearsals, November through February. from 12:00 – 2:30 PM at CentroNia (1420 Columbia Rd. NW). Auditioners must also be able to commit to several weekend shows in January and February, with the possibility of performances as soon as December.
Auditioners should feel comfortable with playing vulnerable, grounded characters, dealing with complex relationship dynamics, performing non-comedic scenes, and handling a nuanced narrative structure.
Auditioners should also be comfortable with levels of physical intimacy (kissing, hugging, etc)
Love is love—Improv Actually seeks a diverse cast and encourages all to apply regardless of sexual orientation, gender identity, ethnicity, race, age, or physical ability.
Published:
October 12, 2017