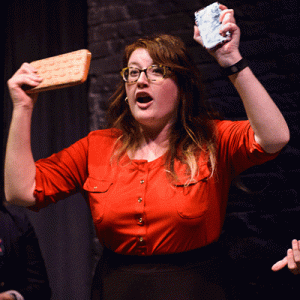 Clare Mulligan
Washington Improv Theater
Erick Acuña Pereda
Caroline Yates
Clare is a DC native—yes, DC proper, and don't you forget it—and she has been improvising since 2011.
Clare has previously performed with Mama's Pot Roast at Washington University and workshopped with Second City, the Annoyance Theater, and the Reduced Shakespeare Company.
She once performed on the Second City stage and didn't do anything memorable. She is currently a member of Hellcat, a continuation of the WIT Special Project The October Issue, and will perform as a member of In Lieu of Flowers in the spring of 2018. Clare has performed at the Women in Comedy Festival in Boston and at the Pandamonium Improv Festival at Washington University in St. Louis. One time, she saw Beck Bennett, Kyle Mooney, and Taran Killam on the New York City Subway but she was too embarrassed to ask for a picture. She still regrets not asking. In her spare time, Clare impersonates Guy Fieri.
Favorite Historical Figure
Freddie Mercury
Personal Motto
You could be the king but watch the queen conquer.