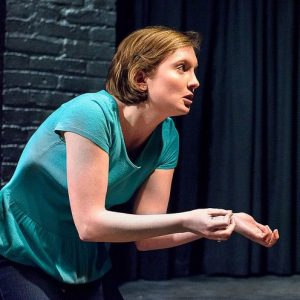 Caroline Yates
Washington Improv Theater
Clare Mulligan
Kaelan Sullivan Fleury
Originally from Baltimore, Maryland, Caroline moved to DC in 2015.
Caroline has taken classes with Baltimore Improv Group, The Unified Scene Theater, and the Upright Citizens Brigade Theatre in New York City. In Baltimore, she regularly performed with Thighmeat and the musical improv troupe, Charmsical.
At WIT, Caroline plays with The October Issue and Harold team Diviglio. She is a member of the musical improv house team, The Unified Sing, at The Unified Scene Theater. Caroline also plays with indie team, Prettier Than You. She is in two duoprov teams, Yates & Berg with Pete Bergen and Dirty Truck with Julie Tice. She formerly played with The Lodge.
Photo by Darian Glover
Hidden talent
Can balance up to four spoons on my face
Fun fact
I started taking improv classes because my mom does improv.