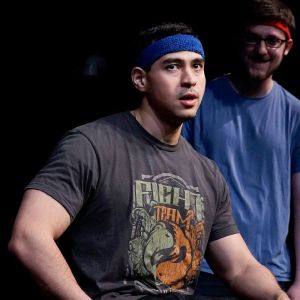 Xavier Padin
Washington Improv Theater
Charles St. Charles
Mikael Johnson
Xavier Padin has an actor's heart, an improviser's mind, and bones of steel. Xavier believes in improv, the trust in the human spirit that it fosters, the discovery (both internal and external) that it facilitates, and the humor it cultivates...he thinks you should believe in it too.
He joined the Washington Improv Theater community of student/performer/volunteers in the summer of 2010, the WIT faculty in 2011, and the Harold program in 2012. He was a member of the (the now gone) Gone Baby Gone and then in (the now gone but felt in spirit) Spirit Bear. Xavier joined the company ensemble Season Six in 2014 and could not be happier to perform with a cast of such supremely talented and supportive geniuses.
Xavier has a background in acting, dancing, push-ups, and freestyle rapping. You may see him in a variety of other venues in the District, so you should say hello if you can, because Xaviers are friendly.
Xavier Padin is a dynamic kinda guy, with an actor's heart and an improviser's mind.
In the summer of 2010, Xavier spent a majority of his free time volunteering with WIT-sponsored shows and taking improv classes. From the first time he laid his eyes and ears on WIT, he knew he was in love.
He has since completed the WIT curriculum and considers it to be one of the most beneficial learning experiences of his life. Xavier wholeheartedly believes that there are few communities as fun, smart, and creative as the Washington Improv Theater's community of improvisers.
Xavier encourages everyone he meets to try improv classes because, well, life is improvised—so you might as well learn how to get good at it! Xavier's improv performances have included weekly shows with the WIT Harold team Spirit Bear, the rapping/beatboxing crew Mr. Meaner, the gang of dazzling digits known as Teenage Hand Models, 2013 FIST contenders Resident Evil 5, the secret society known as the Lodge, and the infamous duo-prov of T-Rex, Charles-Xavier, and Chux—as well as several guest appearances in Burlesque and Belly Laughs, Improvapolooza, and Chinese Menu shows.
Student Feedback
"Xavier is amazing. A talented leader, really great knowledge of the craft, fun attitude, clear instructions… Would definitely take a class with him again."
"Xavier was a great teacher and showed that he cared about his students. He was able to cultivate a closeness and trust among the students. His feedback at the end of the course was very helpful."