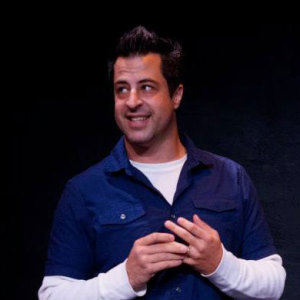 Mikael Johnson
Washington Improv Theater
Xavier Padin
Matt Berman
Mikael Johnson has worn just about every hat when it comes to performance, except singer and dancer. Not that he's opposed to the latter, he just thinks audiences would be.
He currently is one-half of the duo improv troupe, ShawnMikael(s), one-third of the 2013 FIST champion Thunderball, and has been a 1/4, 1/5, 1/6, etc, to a number of other troupes.
Of late too, you can see him perform with Haggis, Johnson & Joshson, The Score, and shows produced by Chinese Menu. He is the coach of the WIT team Commonwealth, too.
Favorite Snack
Gummy worms
Mikael has taught WIT's Level 3 Scene class for many years before taking on teaching Harold.
He believes that improvisers need to be good actors and that honest emotions drive characters, patterns and games.
Previously, he taught the WIT Elective class "Acting for Improvisers" and has taught past workshops that incorporated theater fundamentals into scene work.
Mikael loves working with students that show up to every class with an open-minded enthusiasm. But if you ask him, "Tear me down, man, I can take it," he'll likely direct you to a military recruitment office.
Student Feedback
"Mikael Johnson is amazing as a teacher. He had such good insights and I had plenty of a-ha moments."
"I thought Mikael's insight's were awesome."
Personal Motto
Treat failure and success the same
Hidden Talent
Off-speed pitches for strikes at anytime in the count