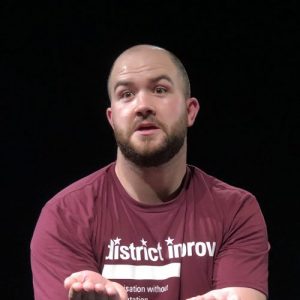 Turner Meeks
(he/him)
Washington Improv Theater
Julia Zhen
Taylor Kniffin
Turner's improv style is best understood by seeing how sweaty he gets on stage putting all his energy into every move. He's always had trouble playing it cool.
Turner's life in performance began when he was cast as King Arthur in a college production of Spamalot after taking an acting class on a whim. A similar moment of inspiration led him to sign up for a Level 1 intensive session at WIT and he hasn't looked back since. He completed the WIT core curriculum in 2019, has competed in FIST, and performed in Improvapalooza. He plays regularly with the indie troupes YELLOW, E.L.F., and In a Tizzy. He performs monthly in The Character Show at Dojo Comedy and dabbles in standup.
Outside of comedy, Turner works for the Navy as a cost analyst. For fun he plays guitar and attends as many Phish concerts as his credit card and PTO balance will allow.
Photo credit: Heather Marie Vitale
Personal Motto
You go, girl!
Best Dance Move
The Spongebob