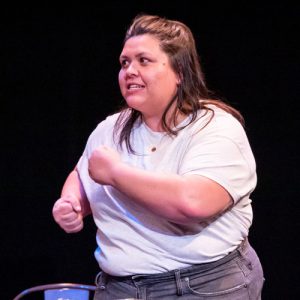 Steph Wilson
Washington Improv Theater
Svend Larsen
Sean Rossman
Steph is always looking for new ways to get attention.
So she found WIT, discovered that improv was probably going to be a very big part of her life, and completed the core curriculum in August 2019.
Steph graduated from a small liberal arts college in Pennsylvania. By day, she teaches kindergarten. She blames her struggle to hold adult conversations on her career. However, she thinks her students are a great audience and sometimes thinks they should be paying to hear her jokes. Steph feels right at home in any small overpriced grocery store. Her dog is actually really funny and does stand-up here and there.
She currently plays on the indie lady-prov team Founding Fathers.
Favorite Historical Figure
Guy Fieri
Hidden Talent
A perfect cartwheel (10/10)