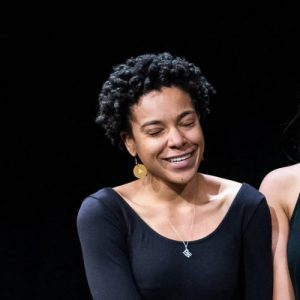 Simone Webster
Washington Improv Theater
Jo Scott
Al-Hassan Koroma
Simone took a WIT class to prove to herself that she was in fact, not an improv person. She's never been so happy to have been wrong in her life.
Simone took her first improv class in the summer of 2018, and since then, caught the improv bug and completed WIT's curriculum. She competed in FIST as a member of I Don't Know Her, a group of unapologetically black and phenomenal women. She also currently plays with WIT ensemble Hellcat and performed as part of The Heist cast for Capital Fringe 2019. As someone who makes real-time commentary during movies and makes inappropriate faces during work meetings, Simone is happy to have found a place to put those "bad" habits to good use.
In her free time you can find her at the rollerskating rink, on a kayak, or passionately explaining the merits of the horror genre. Simone also enjoys traveling to her hometown, Queens, which may or may not have to do with her adorable nephew, and the funniest nonagenarian on the planet — Gladys.
Hidden Talent
Eagerly nodding along during your class presentation