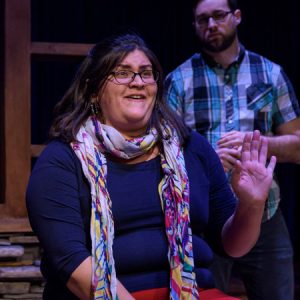 Samantha Watson
(she/her)
Washington Improv Theater
Karyn Wilson
Angela Karpieniak
Samantha Watson started improv purely by accident—stumbling into a workshop at a retreat. Not knowing what the workshop was, she fell in love with improv and has been doing it ever since.
Samantha has trained at WIT and the Unified Scene Theater. All the improv classes made her crave stage time. That, coupled with her 10-year-old forbidding her to sing to him or in their home, led Samantha to take her off-key singing to the stage with Laughing Index Theater's Wonderball, a musical improv team, where she masked it as comedy AND enjoyed publicly embarrassing herself and her son.
Having lived in DC since 2001, Samantha considers herself to be from DC. She has a wonky job in international development (further evidence that she is a DCist), but also gets joy from her leadership coaching business and from improvising. She has two sons—one of whom is an amazing fireball about to enter middle school and the other likes long walks and chewing on bones. Samantha herself likes long walks on the beach and in Rock Creek Park, but doesn't particularly care for bones.
Best Dance Move
All the moves
Samantha loves teaching and coaching as much as she loves playing!
Samantha loves improv comedy because she believes that, for the most part, adults don't play and become more alive and present to life when they do.  Improv is one of the most playful things we can do, and Samantha enjoys creating a brave, safe environment, in which people feel comfortable playing and failing, but also learning.
Samantha trained at WIT, has done several workshops with other theaters, and coaches a couple of indie teams in addition to being a WIT teacher.
Student Feedback:
"Samantha's attention to detail is incredible. I was always able to learn from her insightful feedback, even if I didn't perform in a particular scene. Through her encouragement and guidance, I have noticed an improvement in my confidence and ability as an improv student. Most importantly, Samantha established a welcoming, FUN learning environment. There was never a dull moment in her class."
"Samantha was extremely welcoming and really did a great job in creating an open, inclusive, and creative environment. She really cultivated an atmosphere where students weren't afraid to do something wacky or something a little out of their comfort zones. "
"I really liked that Samantha allowed us to try, possibly fail, and learn from our mistakes through her wisdom rather than giving us some ideal standard she expected us to meet up front."