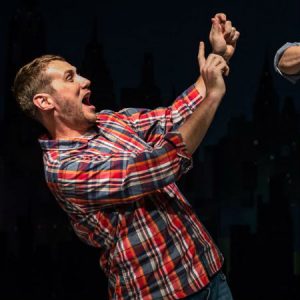 Rob Miller
Washington Improv Theater
Aaron Merrill
Heather Marie Vitale
Improv has been romancing Rob since his college years, and their public displays of affection are hard to ignore.
Rob, a Chicago-suburb native, started doing improv in 2005 with Merely Players at Carthage College. Before relocating to DC, he was living in Indianapolis and was a member of the teams IndyProv and Buddy Buddy. Rob completed the WIT curriculum and was also a member of People Who Shouldn't Twerk, the runner-up team of WIT's 2015 Fighting Improv Smackdown Tournament.
Off the stage, Rob can frequently be found breathing in the outdoors, enjoying a local eatery, or milling about a thrift store.
Photo by Darian Glover
Personal Motto
Life is 10% what happens to you and 90% how you react.
Most frequently referred to as the "tall guy in improv who almost always wears plaid and Chuck Taylors". Rob loves watching the commitment and support that improv brings out of people.
Growing up, Rob always told his parents, "I want to grow up to be a chemist or a comedian". After earning his degree in Chemistry, he decided to pursue the latter. Working in higher education during the day, his passion to teach and learn with others easily translates into the WIT classroom. He believes there is a universal truth to performing and teaching: the more energy you put into something, the more you'll get out of it! Rob loves to explore individual's potential by harnessing their energy to make them more confident, on and off the stage.
Rob is a member of WIT ensemble's King Bee and Improv Actually and previously performed with WIT Harold team Blot. He is also a member of indie teams Jos. A. Banksy and Big Boy Nap Time.
Student feedback
"He was instrumental in creating a positive, joyous energy. His comments were very thoughtful and I appreciated his responses to my emails–I still refer to them when thinking about improv."
"The enthusiasm, energy and passion that Rob brought on a nightly basis made class a true delight to attend. His targeted class notes were thoughtful, fair and constructive, and they really pushed me to develop my improv/character-related skills."
Favorite TV Show
Doctor Who
Favorite Food
Every Night is Taco Night