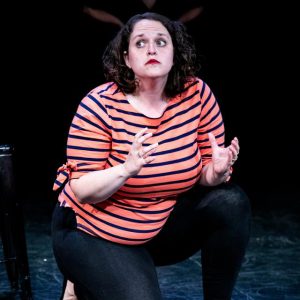 Heather Marie Vitale
(she/her)
Washington Improv Theater
Rob Miller
Caroline Chen
For Heather Marie, improv is cardio, a workout for your mind and body.
Heather Marie believes that everyone should do improv: it's all about bringing a slice of life to stage with a heightened reality. Heather Marie's teaching and coaching focuses on the fundamentals of clear game, strong relationships, and specific characters to build levels of fun that should be illegal. Heather Marie works to foster classrooms full of joy, supportive teamwork, and community.
Student Feedback
"Heather Marie is so funny, and is so good at making everyone feel comfortable.  Plus she does a great job of explaining what the audience is thinking during a scene!"
"Heather Marie cultivated a fun, safe space to play and learn more about improv. She has a real talent for supporting what you're doing while also encouraging growth."
Heather Marie is a comedy nerd who grew up idolizing Gilda Radner and memorizing stand up specials. Ask her about the time she did a Dana Carvey bit to a priest.
Heather Marie began doing and teaching improv in high school, but took a long break from performing until she found herself at WIT in 2015. She completed the WIT curriculum in 2016, studied improv at Dojo Comedy and Unified Scene Theater, and sketch at Second City. Heather Marie founded all-lady indie team Rancy Neagan, runs the female-forward Bechdelprov Project, and is a proud member of indie teams The High-Fivers, Sabado Picante, and her duos Sharon & Karen and The Kilbournes. She also regularly writes and performs her own one-woman sketches, performs and produces immersive theater with TBD Immersive, and writes satirical plays for Sixth & I. She has performed at festivals and theaters around the U.S.
Heather Marie is a typical Type A Virgo and has very little free time. She has served on the District Improv board since 2017, sings in the Sixth & I chorus, plans epic trips, coaches indie teams, devours podcasts, dotes on her cat Eleanor, and has started watching all ten seasons of Beverly Hills 90210. Wish her luck.
Personal Motto
Live every day like you're Glen Coco.
Favorite Animal
Sea turtle