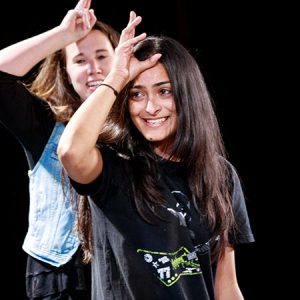 Rajyashree Sen
Washington Improv Theater
Brianna Rooney
Andy Braden
Rajyashree, AKA Rai, proudly hails from Kolkata, India, and has been improvising from the moment she was born. She never had a plan and still doesn't.
She has completed the entire curriculum at Washington Improv Theater. In addition to WIT house team Heirloom, she cherishes performing with her indie teams Please and Thank You and Bombay Vindaloo.
Story has it, that she was a weird kid. In an essay she was asked to write in 4th grade on what she wanted to be in life, she aggressively ridiculed the idea that one could know such things that early in life. This was an act of wisdom that her teachers appreciated far less than she would have expected. Now she is an adult and she has learned to pick her fights.
For her career, she strives to understand how fruit flies walk backwards. When asked what she does for a living by non-neuroscientists, she prefers to introduce herself as a struggling poet. Her poetry has been criticized of being thematically repetitive by several well-wishers.
Photo by Kian McKellar
Favorite color
Blue gray (the color of dreams)
Hidden talent
Above-average thumb-bending skills