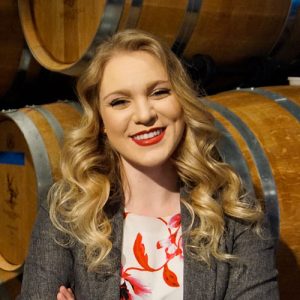 Molly Hoke
(she/her)
Washington Improv Theater
Natalie Knazik
John Papageorgiou
Molly works in hospitality. Which means all ludicrous characters have been performed with love and catharsis on the WIT stage since 2021.
Molly's relationship with improv is relatively new, but passionate! In addition to everyone's first love, the the-a-ter, Molly's other old flame was performing on the forensics team in college. And yes, you don't know what that is! Forensics is a national and international performative and public speaking organization in which Molly competed in for 4 years, gaining numerous acting and original speech accolades, championships, and joining the American Forensics Association's All American Team in 2016. Ever since then, she's been trying to fill that creative whole in her heart, and in walked that handsome stud: improv.
Molly now uses her attention seeking in the hospitality industry as a winery manager! She loves people (the nice ones), wine (the good ones), and spreadsheets (the pretty looking ones). Molly loves movies, and alliteration. Please ask her about any movie…seriously. Any. Movie.
Childhood Nickname
My name is too short for a nickname :/
Favorite Snack
White cheddar popcorn! Every time.