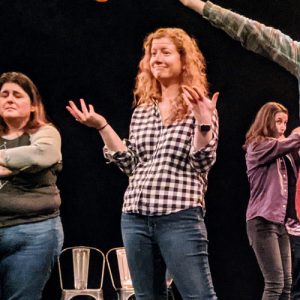 Meghan Faulkner
(she/her)
Washington Improv Theater
Mike Frank
Devin Hiett
Meghan started taking improv classes in 2015 to have something fun to do outside of work.
After completing the WIT curriculum, she took a long break. Like a six year long break. In her triumphant return in early 2022, her FIST Matchmaker team The Can't Evens made it all the way to the final 4 of FIST. Now she can't believe she stayed away so long.
She used to dislike cats but is now a little obsessed with her cat, Sherlock. During her time away from improv, she served on the board of the DC Abortion Fund and as an Advisory Neighborhood Commissioner in Adams Morgan. (Improv is way more fun and less stressful).
Personal hero
Anyone who makes Samuel Alito sad
Favorite DC Bookstore
Lost City Books