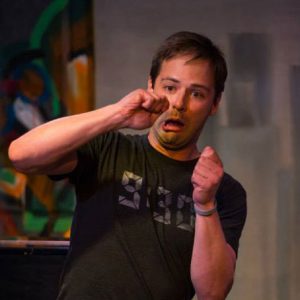 Luke Hennig
Washington Improv Theater
Jane White
Bam Alston
Luke Hennig's improv odyssey began when he joined two friends to form a team for FIST 2013. Their Round 1 show as Interfaith Dental Clinic featured a staging of Gandhi: On Ice. They made it to the final.
Since then he's been performing with local indie legends The Lodge. Most recently, they've dabbled in musical improv, self-producing several sold-out shows benefiting local and disaster-relief charities.
Luke will write and perform a five-minute character monologue at a moment's notice. He's guest hosted trivia at Wonderland Ballroom ten times and played guitar at three friends' weddings. His uncle Ken Campbell was Santa Claus in Home Alone.
Hidden talent
Listing corporations headquartered in Minnesota
Personal hero
Maria Bamford