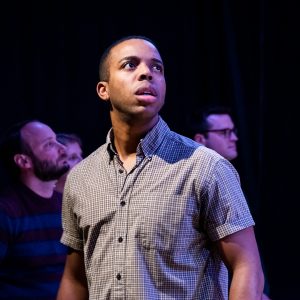 Bam Alston
Washington Improv Theater
Luke Hennig
Adriana Usero
Bam Alston's improvisational journey began in 1997, when his kindergarten teacher asked what he wanted to be when he got older. He's been making things up ever since.
Bam performs with featured ensemble Lena Dunham and the indie troupe Colossus. He was previously a member of WIT ensemble Madeline and has performed with WIT special project In Lieu of Flowers and Harold team Tiovivo. Along with having completed the WIT curriculum, he has trained with DSI Comedy Theater and the DC Improv, written and performed sketch comedy, and occasionally does stand-up. Both on and off stage, he commits to the bit.
Hailing from Raleigh, North Carolina, Bam is both a Scorpio and an only child. He wants you to know this now as to avoid any harsh and devastatingly accurate judgments later. He believes fries are a vehicle for the sauce, and would prefer to be called Brandon in the presence of his mother. He won't be upset if you mess up, but it will be a thing, and he doesn't want to have that conversation for like, the billionth time.
Photo by Jeff Salmore
Favorite snack
Family size chips and store-bought dip, to be consumed at once