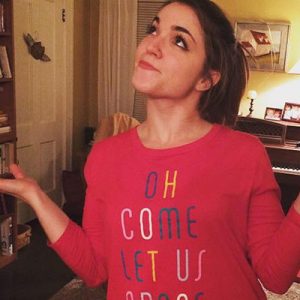 Julia DeLois
Washington Improv Theater
Adam Levine
Beth Lyons
Julia DeLois is originally from Concord, NH, but moved to D.C. in 2016 from New Orleans after acting professionally there for the past few years.
She is thrilled to be working at WIT, seeing awesome shows and meeting the people who make up the city's thriving comedy scene! Though she has lots of acting and sketch experience, she is finally facing her longstanding fear of improv as a WIT student.
By day she works as the education associate at Studio Theatre, coordinating classes in the acting conservatory for adults and teens, though she will probably quit as soon as her dreamcatcher business takes off. Catch her on Twitter @jdelwoo and on YouTube and Facebook with her New Orleans-based sketch group, Friends With Gum.
Best dance move
The Pee Wee Herman
Hidden talent
Uncanny memory for birthdays