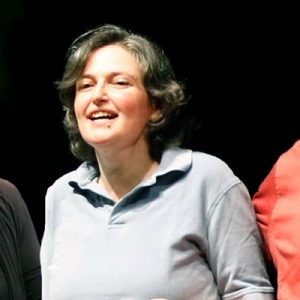 Beth Lyons
Washington Improv Theater
Julia DeLois
Julia Rocchi
Born and raised on Martha's Vineyard, Beth fell in love with improvising in middle school.
She's studied at Washington Improv Theater including the musical improv curriculums. She has also worked with teachers from the Upright Citizens Brigade Theatre, Second City, Magnet and Annoyance. She attended performing arts high school and majored in theater at Hollins University. She co-founded and currently performs with the indie musical improv troupe Door #3 and the a capella vocal improv ensemble Voice Exchange.
She recently completed a 6-year marathon run of daily performances while caretaking for her mother at the end of her life. Said performances included improvising songs about food and physical therapy, interpreting gibberish conversations during aphasia episodes, yes-and'ing her mother's in-the-moment character choices, and frequent renditions of Row Row Row Your Boat, and Amazing Grace.
Beth's other notable past performances include her first stage appearance at age 4 as Timora, swamp child #3, playing Mother Courage in Mother Courage, plus a 2-year stint in her all-girl ukulele band 'The Drama Kitties.' When not improvising and making music, Beth can usually be found arms-deep in her paper mache art studio, or training puppies to understand that people are relevant and worth listening to.
Personal motto
Life works out.
Favorite historical figure
Georgia O'Keefe