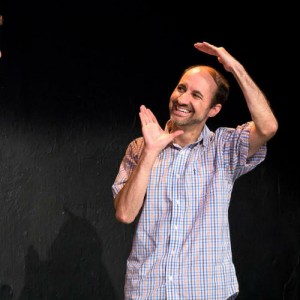 Jason Walther
(he/him)
Washington Improv Theater
Raymond Simeon
Catherine Grothus
Jason Walther was trembling before his first improv showcase. And his first class. He loves improv for helping him get over those fears.
Jason loves teaching improv because he gets joy from seeing people having fun, taking risks, and changing how they look at life. He's drawn to how playful and supportive improv is, and focuses on those aspects when teaching and performing.
Jason took his first improv class in 2010, finished WIT's curriculum in 2011, and has been an improv nerd ever since. He is currently a member of one of DC's longest running improv troupes, Press Play, and the indie Harold team Bear Copz. His troupes include WIT Harold Team Spirit Bear, and indie troupes Hot & Sweaty and Neighbors.
Student Feedback
"Jason was fantastic. He gave great notes and had great suggestions. His presence really put me at ease."
"I thoroughly enjoyed his class, had fun, and recognized the benefits! He did an amazing job of teaching. He's engaging, motivating, and entertaining."
Celebrity He'd Like To Meet
Aziz Ansari
TV Show He Wish Existed
Undercover Robot
Personal Motto
Courage is confronting fear