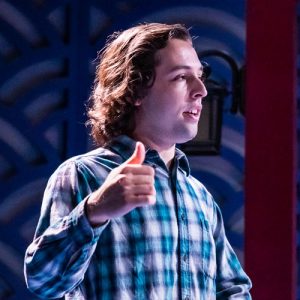 Eli Okun
Washington Improv Theater
Anna Ross
Mark Abman
On Eli's first day of first grade, his teacher called his house to say that his smile made her day. It's all been downhill from there.
Eli began improvising by the ocean as a student and then member of the Stranger Than Fiction troupe in Portsmouth, N.H. After moving to D.C., he jumped into WIT classes and completed the curriculum in 2018. He also performs around town on the indie team Thunderspike!
Eli grew up in Rockville, Md., a terrific town that's almost completely undone by its official motto, "Get Into It!" As a child, he was a paying subscriber to Dog Fancy magazine. Now he spends time offstage working in the lamestream media, complaining about the D.C. United streaming platform, applying to compete on Survivor, and staring longingly at the night sky.
Favorite Color
Neon orange
Favorite Snack
Mike and Ike Mega Mix
Personal Motto
Drench yourself in words unspoken; live your life with arms wide open