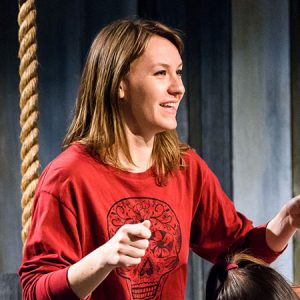 Cat Fullerton
Washington Improv Theater
Peter Narby
Robin Doody
Cat Fullerton hails from El Centro, California. Always a weird child, Cat found her calling while studying at UC Berkeley when she learned how to do a Harold by reading some books - Nerd!
Cat has about 2 years of "self-taught" experience performing and studying improv in college with jericho! Improv, and another 3 years of "skool-taught" experience from studying at the Upright Citizens Brigade in New York. While at Upright Citizens Brigade, she performed in runs of The Evente, Fast Harolds, and with a Cards Against Humanity show.

In between UC Berkeley and Upright Citizens Brigade, Cat was a Peace Corps volunteer in Nicaragua and Bolivia where she learned how to use a machete and make tortillas from scratch. Since then, Cat has worked in the areas of environmental advocacy and consulting. She loves dancing, Ethiopian food, and being left-handed.
Hidden Talent
I can play the bagpipes on my throat.
Personal Motto
"If it looks like a jellyfish, don't touch it."