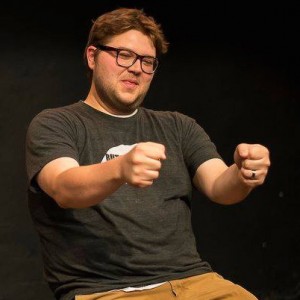 Bryan Jackson
Washington Improv Theater
Catherine Deadman
Yael Rothman
Bryan Jackson came to the District by way of Chincoteague, Va. He has been studying and performing improv since 2012.
He has studied at the DC Improv, Washington Improv Theater, and Upright Citizens Brigade Theatre in New York City.  He has performed in the District Improv Festival, Baltimore Improv Festival, and the Del Close Marathon.  Currently, he performs with iMusical: The Improvised Musical, The Word of God, and The Fuzz Ups.
When Bryan's mother saw him perform for the first time she said "I didn't know he was funny!"

Photo by Steve Marcellino
Favorite historical figure
Brett Favre
Bryan learned that improv is the perfect place to set your silliness free.
Before Bryan started taking improv class he thought improv looked silly and didn't get the appeal. But after his first class he was completely hooked and learned that their is nothing wrong with being foolish. He loves the freedom to be able to create anything and everything in the moment with other people who love doing the same thing. There's nothing else like.
Bryan has trained at the DC Improv, Washington Improv Theater, and UCB NY. He has also taken workshops from a ton of people he looks up to, like Alex Berg, Will Hines, Ryan Karrels, Ari Voukydis, and many others. He coached WIT harold team Thank You For Sharing and was a member of the former WIT harold team Breaker Breaker. Currently he performs with WIT house team iMusical and some indie teams (Haddington Club, In Laws, Jackson Millissippi, and NIXON)
Student feedback
"Bryan is fantastic! He's so funny and brings a great energy to the classroom."
"His constructive critiques where helpful. And I like that he's quirky and zany."
High School Dreams
Touring pop punk or screamo band