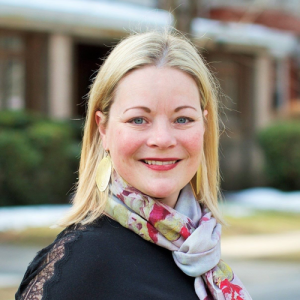 WIT welcomes Anna K. Nelson as Marketing and Development Manager
Submissions for Improvapalooza 2023 are open
WIT to hold Harold Team Auditions in June
Washington Improv Theater is delighted to welcome Anna K. Nelson as its new Marketing and Development Manager. In this role, Anna will be responsible for supporting WIT's day-to-day fundraising efforts, including individual giving campaigns and donor engagement, as well as promoting WIT's classes, shows, community outreach, and the WIT@Work program. Reporting to the External Relations Director (Dan Miller), she will also support overall strategy development and implementation.
"I'm so excited to see the amazing things WIT will accomplish with Anna in our corner," said Miller. "Anna's vast professional experience and ardent belief in WIT's mission will help us broaden our impact and help us share the joyous art of improv with more and more Washingtonians."
Anna joins WIT after an established career as an international journalist and humanitarian communicator. Originally from Minnesota, Anna spent 22 years living in France, the U.K., and Switzerland before moving to Washington D.C. in 2013. She holds a B.A. in Comparative Literature from the American University of Paris and an M.A. in International Journalism from City University of London. Anna has traveled to over 35 countries and has used her storytelling skills to shed light on human suffering – and resilience – in war and disaster-affected places from Northwest Pakistan and the Gaza Strip to Bosnia Herzegovina and Mali.
"Wherever I go in the world, I am captivated by the universal importance of human dignity and the power of individuals to create big change. One of the many reasons I'm passionate about improv is its 'Got your back!' mentality, which is all about seeing and supporting each other, sharing focus, and grounding the humor in reality. I also love that the audience is complicit in the magic," she says.
Anna was bitten by the improv bug in 2019, when, on a whim, she signed up for a beginner-level class at the DC Improv. She credits online jams for having kept her "sane and connected" during the pandemic. Having completed DC Improv's curriculum, Anna signed up to take her first WIT course as soon as WIT resumed in-person teaching classes. She hasn't looked back since.
In addition to volunteering at WIT shows and belonging to two indie troupes, La Vie en French and Sass Factory, Anna is a member of the Board of Directors at District Improv, a nonprofit responsible for organizing the District Improv Festival, which will take place in September. In addition, she is honored to be a 2023 D.C. Oral History Collaborative grant recipient for her project entitled, "And… Scene! An Oral History of Improv in DC," which explores improv's unique role and impact in the Washington region.
"The biggest lesson I've learned over the past few years is that community truly matters, so I'm especially looking forward to raising awareness, and funds, in support of WIT's outreach in all eight of D.C.'s residential wards," she adds. Those efforts include programming for elementary school students, women who are unhoused, seniors, military veterans, and members of the LGBTQ+ community.
"I'm deeply committed to WIT's mission and values. I know from personal experience that humor is healing, and that improv can be life changing, so I can't wait to get started in this new role!" Anna's first day of duty at WIT is June 20, 2023.