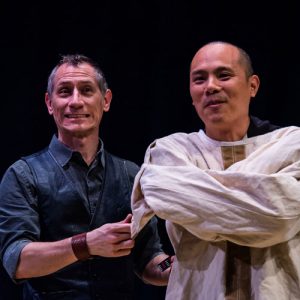 WIT seeks Palooza team members to produce exciting, equitable festival
WIT Welcomes Eight New Board Members
Featured Ensemble Poetic Resistance Q&A: "This type of comedy takes a lot of trust, honesty, and vulnerability"
WIT seeks volunteer team members to help produce its annual experimental festival Improvapalooza (Aug. 21-25, 2019). Candidates should express interest by filling out this form by Sunday, June 2 at 11:59 PM.
Part Petri dish, part play-date, and part pizza-party: Palooza is a chance for improvisers to play with their wildest and most experimental ideas all with an appreciation for taking creative risks. The programming for Palooza is traditionally curated by a team of creative leaders who enjoy:
setting priorities and shaping the event's artistic programming,
organizing and managing necessary logistics,
working with submitters,
setting the scheduling, and
communicating with players.
Being a part of the planning team often requires several shorter planning meetings (about 2 hours in length), as well as one big meeting (about 4 to 5 hours) where decisions are hashed out. These meetings take place in early June through early August. Depending on the role, it also requires some at-home work, ranging from physically scheduling the whole festival to planning the after party.
This is all done in tandem with WIT staff, but WIT tries to leave as much control as possible in the hands of the team. Questions? Please reach out to WIT Operations Manager Jordana Mishory at jordana@witdc.org.
EXPRESS INTEREST FOR THE PALOOZA COMMITTEE
Changes for 2019 to help create a more equitable festival
In response to community concerns about access to the festival, WIT has made several changes to the processes for creating and staging Palooza 2019.
Those steps include:
Expanding the planning team to include a broader spectrum of the WIT community including players, teachers, students, volunteers, etc. This team will balance people with planning experience with those who are new to it. We cannot say in advance how many people from any given category will comprise the team, since it will depend on who applies.
Imposing limits on the number of shows an individual can perform in. For this year's Palooza, participants are limited to 15 shows for the entirety of the festival. In addition, participants should not perform in a number of shows greater than the number of hours of programming that day (ex. if Thursday night features four hours of programming, no individual should perform in more than four shows that night).

WIT does not have the capacity to enforce this cap, so it will remain honors system.

Once submissions are accepted and the schedule is posted, players will be responsible for reviewing their schedule and, if necessary, prioritizing which shows they would most like to participate in.

Exceptions to this cap include late night bit-shows (Friday night) and blind casting shows (an incentive to create and participate in these randomly mixed casts)'

Providing support for show ideas before they are submitted. Committee members will be designated to provide input on show ideas to increase their likelihood of success. This will help less experienced improvisers create more innovative ideas.

Additionally, some shows may be accepted based on their inclusion of many individuals who are not in other shows. The committee may provide feedback on the show to help its development before it hits the stage.
WIT will release guidance on how to create a successful submission when submissions open.

Updating acceptance criteria and form information to prioritize submission quality and performer equity. While some groups are guaranteed shows (current ensembles and Harold teams, FIST champions, teams formed out of classes), all shows must demonstrate a compelling innovative angle. The form will be created to allow one top priority submission per submitter that will be automatically accepted. If there are concerns about any of these shows (they appear dangerous, are not based in long-form improv, they are duplicates of other show submissions, they seem half-baked, etc.), then the planning team will work with the submitter to help them address the concerns. If the number of shows submitted and initially accepted based on this streamlining exceeds the time available for Improvapalooza, then the planning team will have to eliminate some submissions.
Submissions for Palooza 2019 will open soon.