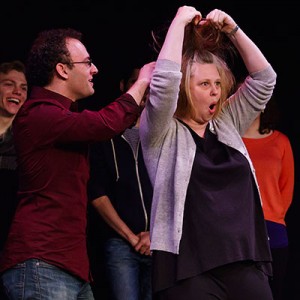 Share the love (and save!): Refer a new Level 1 student, get $25 off your next class
Summer Harold auditions are now live!
Improvapalooza 2015 now accepting submissions!
A Foundations of Improv class at WIT is a true rush—new friends, new experiences, a new sense freedom and play. It's time to share the joy of improv with your friends (and saving a bit of money in the process).
From now through Aug. 15, every time you refer a new student to WIT's Level 1 class you'll get a $25 credit toward your next WIT class. That includes electives and WIT U workshops!
Spread the word about WIT classes to your friends and family and tell them to mention you during the checkout process (don't worry, we'll ask them). We'll notify you about your credits before upper level classes go on sale.
It's easy to let your friends know about WIT classes:
Forward them the link to Level 1 via email: The old-fashioned way! Just pass this message along and include a note about why you think improv classes are valuable.
Share on Facebook: Post about our Foundations classes on Facebook and share how much fun they are.
Share on Twitter: Tweet about WIT classes to your followers. Heck, we've already written one for you — just click here.
Washington Improv Theater students come from all walks of life – from folks who are drawn to the spotlight to those who have never been on a stage before. But no matter who you are, you've got something to gain from a class at WIT.
The fine print: Referrer is eligible for $25 off any WIT class or workshop for every referral that results in a new Foundations of Improv registration for the fall term of 2015. Each registrant may only cite one individual for the referral. $25 credit is valid until the Summer 2016 session. Email classes@witdc.org if you have questions.