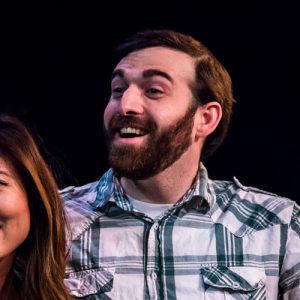 Q&A: Improv for introverts with Geoff Blizard
Q&A: WIT performers come clean about stage fright
Q&A: David Steib Talks About His Starring Role in Ivanka! The Musical
Geoff Blizard is a State Department contractor and self-described introvert. After being inspired to join WIT after coming to a performance,  Geoff finished the class curriculum in 2015 and has been performing since including the former WIT Harold team Wallawoo.
Read on to see what improv is like for introverts like Geoff, and what he's learned that can be applied to all areas of life!
How did you start doing improv?
I got my first taste of improv actually at a summer camp, back when I was in middle school. Some of the camp counselors led us all in some short-form games, like three-headed prophet and party quirks. After that, I really didn't do any improv until college at American University. I was part of a Shakespeare troupe, the Rude Mechanicals, which had an offshoot group, the Elite Ballerina which did improv. We pretty much would meet once a week to play games and exercises, and do some montage work, and occasionally we'd even get a chance to perform.
I didn't actually get into WIT's curriculum and the DC community at large until after grad school, in 2014. A friend of mine, Melissa Englander, really inspired me with her performance at the 2013 FIST, and I decided that I needed to get back into improv more seriously!
You describe yourself as an introvert. What draws you to improv?
I love being able to get on stage with people and just play with them. Improv feels like a safe space, where everyone has equal control and part in a scene. I have grown as a person pretty significantly since high school and college, but I think some of the biggest social and personal development steps I've taken have been because I've put myself out on stage, both in scripted performances and improv. It just feels great to me to bring a creative work to life.
Do you use any improv techniques in your daily life as an introvert?
In general, having experience on stage—especially in improv—has made me feel more relaxed when working and talking with people I don't know. I'm definitely a better listener and communicator than I used to be, and I think that I'm a lot more genuine and open with my opinions and emotions. I still tend to feel a bit awkward at large social events, but I definitely feel more equipped when I actually get engaged in conversation with someone.
Have you learned anything through improv that has helped you with your professional life?
I think the number one thing that I've learned from improv is how to be a better listener. It's a pretty invaluable skill whenever I'm in a team meeting, or need to coordinate with my coworkers on a project. Second to that, I'm a contractor, and things don't always go exactly as we expect when it comes to managing client expectations and delivering quality results. I've gained a great deal of patience and focus through my improv training and performances, which is pretty useful when it comes to working with clients.
What about in other areas of your life?
I really enjoy tabletop roleplaying games, like Dungeons and Dragons, and doing improv has made me a much better player and game-master. When I run games, I tend to only write up a basic outline of the plot. It's a pretty good bet for any type of role-playing game that your players will do something unexpected. So really, I spend most of my time improvising the story! Performing and practicing improv has really exercised the creative part of my brain, and it's a great feeling to surprise my players right back after they throw me for a loop.
What would your advice be to someone considering trying improv?
Don't worry too much about looking weird or awkward on stage; it'll only hurt you in the long run. Audiences want to see performers who are enjoying themselves while they perform, and performers want to perform with people who are having fun. So just dive in and play!
What's been your favorite WIT memory so far (in a class, performance, anything)?
The first time I went to DCM with Wallawoo, my team on the WIT Harold program, ranks up there. I remember that we had a pretty good crowd at UCB East for a Sunday Morning, and that we all just had an utterly electric feeling between us all. I don't remember the show, although we definitely lifted Alex Turner up so high during our opener that I think he may have kicked the ceiling. And then afterwards we all went out for brunch!
Interested in following Geoff's advice and dive in and play? You can find out more about our classes here!