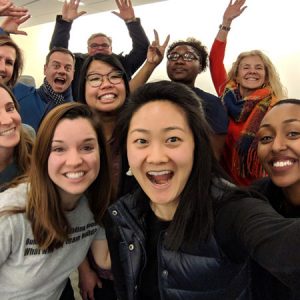 Mistakes as gifts: How WIT's administrative hiccup yielded unexpected opportunities
WIT's Harold Teams Welcome 24 New Players
Improviser and ASL Interpreter Erin Murray: "I want to respect the deaf culture by trying to adapt what I've learned doing improv"
When you're running an improv theater—or any other nonprofit for that matter—you try to avoid mistakes. You work to create the best possible experience to advance your mission. At some point though, no matter how many times you get it right, mistakes happen.
In improv, one of our key tenets is, "There are no mistakes, only gifts." And, true to that idea, when WIT recently faced a miscommunication around an Improv for All workshop, treating that mistake as an opportunity turned into an unexpected series of gifts.
It all began on a cold night in January when WIT hosted an Improv for All workshop at the DC Public Library in Shaw. A scheduling miscommunication left a group of strangers in a room, ready to take the leap into improv, but without a teacher to guide them.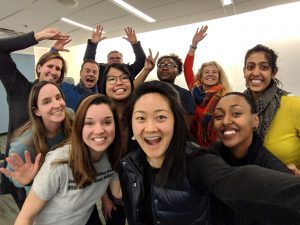 Rather than give up and go home, participant Julie Uppendahl rose to the occasion. Having recently completed an improv class via the DC Improv (and taken notes on her phone), she gathered enthusiasm and led the workshop herself. One participant, who had been in touch with WIT staff in trying to resolve the situation, texted a selfie of the group with the note "WE MADE OUR OWN IMPROV!"
The next day, WIT reached out to make it up to the group. First things first, as thanks for saving the day, WIT gave Julie a free Level One class. She shared a glowing Facebook post about the opportunity saying, "I am so happy that the stars aligned just right that night. I got to share the gift of improv and bring strangers together and I get to keep studying this wonderful art."
She wrote:
It happened simply because I love that improv is capable of breaking down barriers… Instead of sending everyone home without having experienced the connection that improv can teach us, I told the group that I could teach the class…
Not wanting to waste their evening, and willing to take a fun chance at learning improv from a self-proclaimed teacher, everyone stayed. WE HAD A BLAST! I'm so glad that these strangers were willing to let loose and have fun. The connections were easy because everyone had a positive attitude."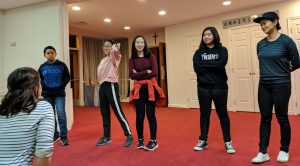 Two other workshop participants took us up on the offer to sign up for a discounted Level One. All participants said they were excited about the free tickets for upcoming shows in March.
In addition, WIT offered the chance to schedule private Improv for All workshops. One participant, Hui Hung, said yes to our offer. As a result, Caroline Howe and Melissa Gedney did a workshop for the Chesterbrook Taiwanese Presbyterian Church in Northern Virginia. A group of 14 young people and adults at the church got to learn more about improv as the result of the connection.
Not only did additional workshops come out of WIT's follow-up, a WIT@Work training for the pond construction company Premier Pond materialized too. In March, WIT will use improv to help small business contractors doing pond design and construction enhance their client communication and collaboration skills. The company owner's wife Keller Shinholser, who also attended the workshop, appreciated the outreach and said, "Both my husband and I are in service industries and when there is that inevitable screw up, how you handle it is the key to how you move forward."
In FY2018, WIT held Improv For All workshops across D.C., sharing improv with 1,000 participants. If you would like to give improv a try, check out the schedule for upcoming free workshops.